The Daredevil Netflix Show Will Exist In The Marvel Cinematic Universe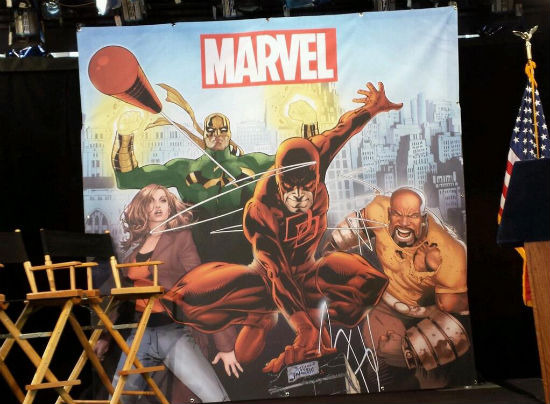 As other film studios race to catch up to Marvel, Marvel is moving ahead. One of their most exciting announcements last year was the fact they'd be bringing four TV shows direct to Netflix, culminating in a fifth team-up series. The first of those will be the New York-set Daredevil, run and written by Drew Goddard. For the most part, details on the series have been sketchy, but Marvel Entertainment's Chief Creative Officer Joe Quesada recently cleared up a few things about the show.
First, as expected, all the shows will exist in the same universe as all the films and other TV shows. He also suggested the shows would all arrive on Netflix all at once, instead of following a more staggered release pattern. Below, read Quesada's quotes about the Daredevil Netflix series.
Quesada appeared on Kevin Smith's Fatman on Batman podcast, transcribed by Comic Book. Here are some highlights about the Daredevil Netflix series.
On the show's place in the Marvel Studios Canon:
There will be some interconnectivity, much like the movies. They will exist within the cinematic universe again, so this is all the same world as S.H.I.E.L.D. and the Avengers.
On the release plan:
You're going to get all these episodes, and you can binge watch them however you want, and then binge watch them again.
On how the show will differ from other superhero properties:
Although these are superhero stories, this is different now. This is the street level...this is the street level noir side of the Marvel Universe. Something that you haven't really, really seen in any of our Marvel movies. And probably more ground level, than I think you've seen. This is not like us doing Batman, Dark Knight or any of that stuff. This is very Marvel doing street level superheroes.
On the status of the show:
The scripts are coming in. They are pretty fantastic. They're really emotional. They're very, very original. But at the same time, it is Daredevil. It is Matt Murdock. We will eventually, hopefully start casting really, really soon, but I'm very, very excited about it.
And on the villain:
I'm not going to say who the villain is in our story
Damn, and we were on such a role.
It's not a huge revelation that the Daredevil Netflix show and others will exist in the MCU. Everything else Marvel has made has linked together, why wouldn't these? What'll be more interesting to find out is how and when they fit in. Some speculation has suggested these series' could take place in the past. However, since the events of The Avengers had such a huge impact on the world, and the fact these shows are all filming and taking place in New York, I'd bet these characters come to being as a result of the Battle of New York.
Daredevil is rumored to appear on Netflix sometime in 2015. It'll be followed by Jessica Jones, Iron Fist, and Luke Cage then culminating in The Defenders.