Brett Ratner To Produce Biopic Of Dodgers Star Yasiel Puig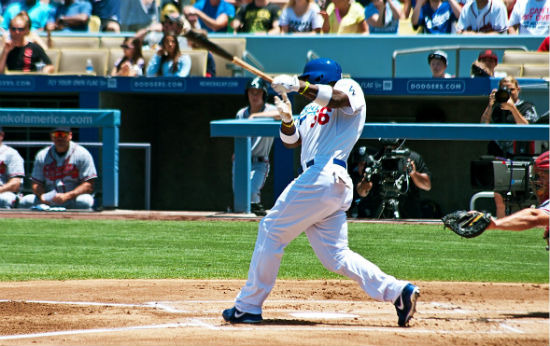 The day of the "can't miss" hit sports movie has come and gone. Even really good movies, such as the recent Draft Day, haven't seen the kind of support similar movies did two decades ago. But that doesn't stop Hollywood from trying. Disney has Million Dollar Arm coming in a few weeks, and now Brett Ratner is on board with a new story. He and his company just bought the rights to a Los Angeles Magazine article about how LA Dodgers star Yasiel Puig escaped from Cuban imprisonment to become a baseball superstar. Read more about the Yasiel Puig movie below.
The Hollywood Reporter broke the news of the deal. The film will be based on the article Escape From Cuba: Yasiel Puig's Untold Journey to the Dodgers by Jesse Katz. Here's how the Hollywood Reporter describes the article:
The article, which appeared earlier this month in Los Angeles magazine, chronicles Dodgers superstar Puig's repeated attempts to escape his home country of Cuba. He finally succeeded when a wealthy but shady sponsor arranged for smugglers working for one of Mexico's murderous drug cartels to pick Puig up in a speed boat and take him to the Yucatan Peninsula. But when his backer allegedly did not immediately pay the agree-upon fee, the smugglers held Puig captive for almost three weeks. His journey ended successfully  — he now has a seven-year, $42 million contract with the National League team – but the piece also highlighted the dangers for other Cubans trying to find a better life in the U.S.
That certainly sounds like a wonderful, inspiring story ripe for the Hollywood treatment. And Ratner's team is currently out to writers. But one would have to wonder, is Puig a big enough name to draw in a huge audience? This is only his first full Major League Baseball season. Casting and marketing is obviously key, and Puig's ability to continue being a star for the Dodgers is also important.
Then there's the question: does America still care about sports movies? For some, getting behind an industry where men get paid millions to play a game, while the majority of people struggle to make ends meet, isn't exactly fun. If we go down that road, though, the same can be said for any kind of entertainment, among which sports is counted.
Were you aware of Puig's story? Do you think it'll make a good film?