'Guardians Of The Galaxy': Stan Lee Cameo Confirmed After All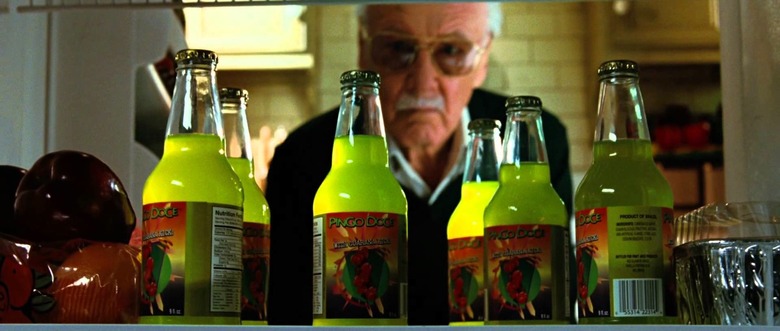 If the Marvel movies have one major common thread, it's Stan Lee. Not only did he create most of the characters we see in them, he cameos in a great many of them. He's appeared in every Marvel Cinematic Universe film to date, and has also popped up in non-MCU franchises like X-Men and Spider-Man.
But earlier this year, Lee revealed that the upcoming Guardians of the Galaxy would be the rare Marvel film in which he would not make a cameo — since it's also the rare Marvel film based on a property he didn't create.
Now, however, it looks like he's changed his mind. Speaking at the c2e2 expo in Chicago this past weekend, Lee confirmed that he would drop in on Guardians of the Galaxy after all. Get (some of) the details of his tiny role after the jump.
I did, already. I can't tell you what it is, but I can tell you I do not understand what it was or why I did it. It has me with a girl — a very pretty girl — that's all I can tell you.
It's really pointless to try and guess his role based on those details. Part of the fun of his cameos is how random they are. You never know how or when he'll show up, but it always feels like a friendly wink to the fans when he does.
Previously, Lee had told the DweebCast that he had no plans to be in Guardians of the Galaxy. Here's his explanation:
No, I'm afraid not. That's the one group I didn't create. I didn't write Guardians of the Galaxy. I'm not even sure who they all are. I can't wait to see the movie.
As Peter pointed out at the time, though, Lee is in fact pretty familiar with one of them: "While Stan Lee didn't create the Guardians group, he is credited (alongside Jack Kirby and Dick Ayers) with the creation of the extraterrestrial, sentient tree-like creature Groot (to be played in Guardians by Vin Diesel)."
Maybe that connection has proved enough for Lee to justify his appearance in Guardians. Or maybe Marvel just pointed out to him that there are worse ways to spend a day than shooting a scene with a "very pretty" girl. Either way, keep your eyes peeled for the comic book legend when Guardians of the Galaxy opens August 1.