Exclusive Clip From Penis Documentary 'The Final Member'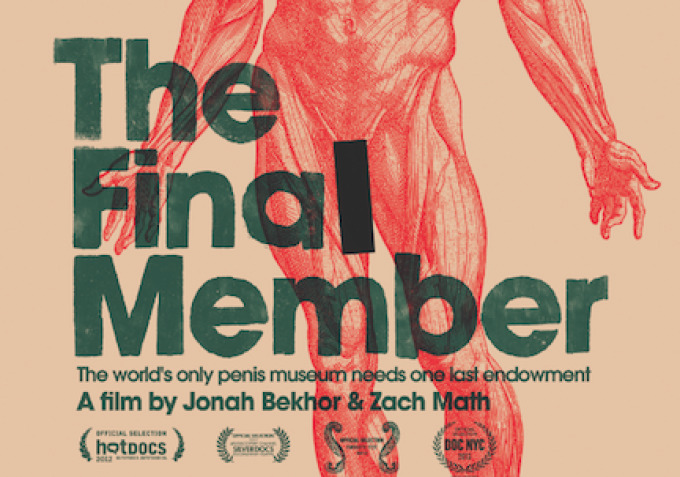 Why would a man want to remove his fully-functional, healthy penis? That's the focus of an exclusive clip we're proud to premiere from Jonah Bekhor and Zach Math's new film, The Final Member. The documentary, which expands in theaters Friday, is about the world's only penis museum and the struggle to acquire a human specimen. Two men are in the race to have their penis be the first human penis in the museum and one, an American who has named his member "Elmo," wants to donate it before he dies.
The film is endlessly surprising and entertaining as it explores this incredible story. Now, Drafthouse Pictures, which is distributing the film, has let /Film debut an exclusive clip. In this sequence, the reason for wanting to remove a live penis is discussed. The clip, visually, is 100% safe for work, but you might want to put in your headphones.
Here's an exclusive clip from The Final Member.
This clip is a pretty solid representation of the film. It's done totally straight, with no eye-winking, but the subject matter itself is so odd you can't help but laugh. Bekhor and Math balance that tone beautifully in a documentary that's very worth seeing. You can find a theater near you at this link: http://thefinalmember.com/
If you want to see more from The Final Member, here are two more clips. Non-exclusive:
Paris has the Louvre, London has the Tate Modern, and New York the Metropolitan Museum. But Husavik, Iceland-a diminutive village on the fringe of the Arctic Circle-boasts the world's only museum devoted exclusively to painstakingly preserved male genitalia. Founded and curated by Sigurður "Siggi" Hjartarson, the Icelandic Phallological Museum houses four decades worth of mammalian members, from a petite field mouse to the colossal sperm whale, and every "thing" in between. Lamentably, Siggi's collection lacks the holy grail of phallic phantasmagoria: a human specimen. Siggi's world changes dramatically when he receives generous offers from an elderly Icelandic Casanova and an eccentric American. However, as the competition for eternal penile preservation heats up between the two men, Siggi soon discovers that this process is more complicated than it initially appeared.