Amanda Seyfried And More Board Joe Wright's 'Pan'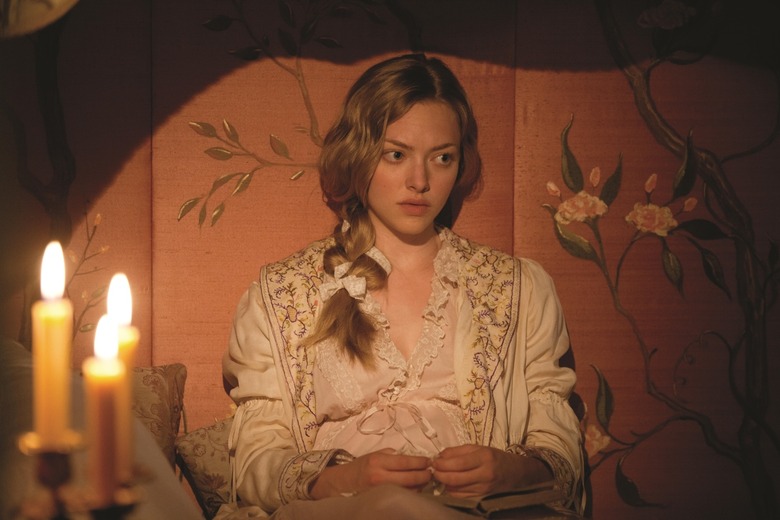 With principal photography set to begin next week, Joe Wright's as-yet-untitled Peter Pan origin tale has locked in a few more cast members. Amanda Seyfried has just signed on, along with Cara Delevigne (Anna Karenina), Nonso Anozie (The Grey), Adeel Akhtar (Four Lions), and many more.
Hugh Jackman, Garrett Hedlund, Rooney Mara, and Levi Miller were already on board. Hit the jump to find out whom Seyfried and the others will be playing.
The film stars Oscar® nominee Hugh Jackman ("Les Misérables") as Blackbeard; Garrett Hedlund ("Inside Llewyn Davis") as Hook; Oscar® nominee Rooney Mara ("The Girl With the Dragon Tattoo") as Tiger Lily; Adeel Akhtar ("The Dictator") as Smee; and newcomer Levi Miller as Peter.
Amanda Seyfried ("Les Misérables") rounds out the cast as Mary, alongside Jack Charles ("Mystery Road") as The Chief/Tiger Lily's father; Taejoo Na ("The Kick") as Kwahu; Nonso Anozie ("Son of God," "Atonement") as Bishop; Kathy Burke ("Tinker Tailor Soldier Spy") as Mother Barnabas; Kurt Egyiawan ("Skyfall") as Murray; Lewis MacDougall (UK TV's "In the Name of the Children") as Nibs; and newcomer Leni Zieglmeier as Wendy Darling.
Smee, Wendy Darling, Nibs, and the Chief are all familiar characters, and it's possible that Seyfried's "Mary" is actually Mary Darling, mother of Wendy Darling. But many of the others seem to have been created just for the movie. Delevigne's part (first reported by Deadline) has not been revealed.
The script, by Jason Fuchs, reimagines the origins of the classic characters created by J.M. Barrie. Peter, in this telling, is a young orphan who's kidnapped by pirates during the World War II era. He's swept away to Neverland, where he leads a rebellion against the tyrannical Blackbeard.
Wright's picture will start shooting April 28 at Warner Bros. Studios Leavesden, for release on July 17, 2015. If you like it, there'll be much more where it came from — Warner Bros., of course, imagines Pan as the start of a new fantasy franchise.