Martin Freeman Teases Notion Of A 'Sherlock' One-Off Episode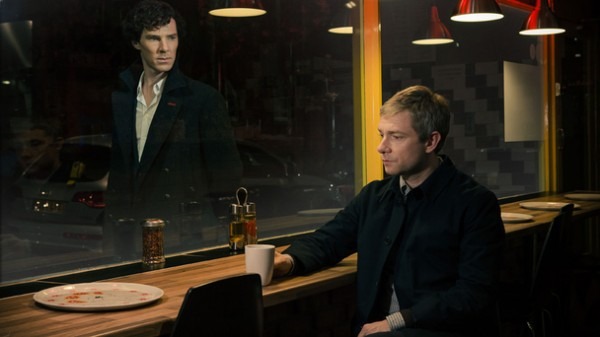 Sherlock season three, comprised of only three episodes as is the series' pattern, came and went all too quickly earlier this year. We know that creators Steven Moffatt and Mark Gatiss want to do a fourth season, and that stars Benedict Cumberbatch and Martin Freeman are game for it. But there's always a problem: getting everyone together. As both actors become bigger movie stars, they have less time for projects such as Sherlock, which is like shooting three movies in a row. But what about the idea of a Sherlock one-off episode to bridge seasons three and four? Freeman says the idea has come up, and he loves the notion.
Speaking to Cultbox in the UK while promoting Fargo, Freeman said:
Mark Gatiss may beat me up, but there is an idea for this one-off special that's such a good idea, and as I was listening to it, I thought, 'We've just got to do this." And I don't know when we are going to be able to do it, unfortunately. It's a fantastic, really mouth-watering idea. But I really don't know when we are going to get to do it.
This comes just says after Freeman told The Guardian that he doesn't know when Sherlock season four will shoot:
I don't know. Really. I wish I did. I thought the plan was to do it in the autumn but apparently that's fallen away. We're all busy. But I'm ready. I'm there. It depends if you want to make time for it. I hope we do. I love it.
So what of it? Is some Sherlock better than none? Would you prefer a full season, even if that means a much longer wait? Or is the possibility of more immediate gratification with a single episode too good to pass up? And if there was a one-off that did well, would you fear that Sherlock would simply become a series of standalone telefilms?