Rumor: Disney Struggling With Boba Fett Spin Off Movie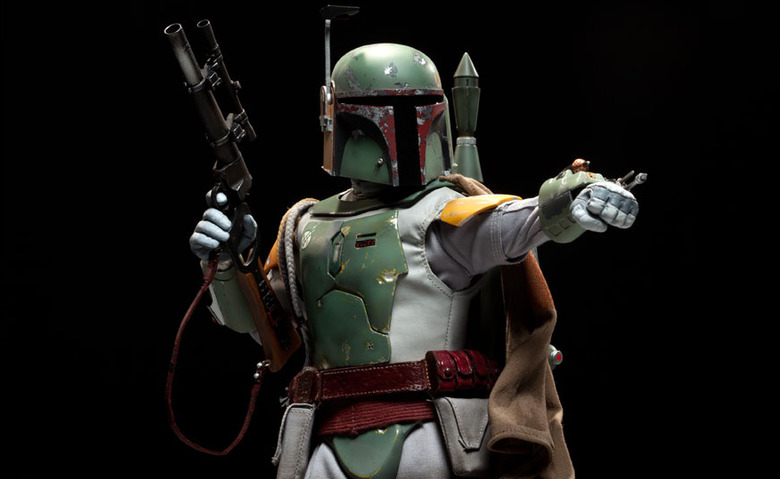 As little as we've heard about Star Wars Episode VII, we've heard even less about what's coming next. The plan was originally for a Star Wars spin-off/origin film to hit in 2016, followed by Star Wars Episode VIII in 2017, another spin off/origin in 2018, and then Episode IX in 2019. And while we don't know that's not still the plan, everyone involved has gotten awfully quiet about it.
Which brings us to Thursday. Several Star Wars websites reported Disney that Lucasfilm executives had an ultra-secret breakfast to discuss the franchise. Whether or not this meeting actually happened is already in question, which should paint this rumor in even a dimmer light. But one site is reporting much of the conversation centered on everyone's favorite bounty hunter Boba Fett.
Fett is potentially one of the characters either Simon Kinberg or Lawrence Kasdan are writing a spin-off movie for but that may have run into some difficulties because of Fett's allegiances.
The rumor, both about the breakfast and quote, come from MakingStarWars.net. Here's what they overheard some executives saying at the meeting:
Lucasfilm wants Boba Fett to remain menacing and scary but we have to make him the hero of the film and it is a real challenge.
Whether or not this discussion was actually had on Thursday is actually kind of insignificant. Even if it wasn't, it's a clear cut issue Lucasfilm and Disney will have to deal with in one way or another.
We don't know for sure a Boba Fett film is coming, but it's a pretty good bet. And if it is, how do you make a family friendly Disney film about a bad guy without ruining his evil reputation? There are a few models look at. The most successful is Pirates of the Caribbean. Jack Sparrow is not necessarily a good person. He steals, he cheats, but deep down there is good in him. The same can probably be said for Boba Fett, who we saw as a mostly innocent child in Attack of the Clones before his father was beheaded by Mace Windu. However, no one views Sparrow as a bad guy, even if he is one. Lucasfilm wants Boba Fett to keep that evil mystique.
One way to do that is change the time frame. If spin-off takes place soon after Attack of the Clones, it could show Fett's desire to try and be good, ultimately failing, which would then lead into the original trilogy. However, if the film takes places during the original trilogy, as had been rumored, we already know he's evil.
That's not to say making a film about a bad guy is impossible. Disney also sort of did it with Wreck-It Ralph, they'll soon do it again with Malificent, and they have films like Cruella in development about evil characters in starring roles. There's also Sony's upcoming Venom and Sinister Six films which, you'd think, might have a similar issues.
Take Wreck-It Ralph out of the equation however (he's never really a "bad guy") and we haven't yet seen any of those movies. Malificent in particular is interesting because it's coming out so soon. Once the film is out, it should be ease to gauge if kids look at Sleeping Beauty differently. Are they still scared of the witch? If they aren't, that won't fit in with Lucasfilm's mandate.
With all these films eventually coming, though, one would hope there's some kind of thematic formula to keep a character evil, but also have us root for them. If there's not, we could be in for a lot of really bad and potentially damaging films.
What do you think about this rumor? Is it possible to make a Disney movie about a bad guy?