Disney's 'Jungle Book' Adds Scarlett Johansson And Lupita Nyong'o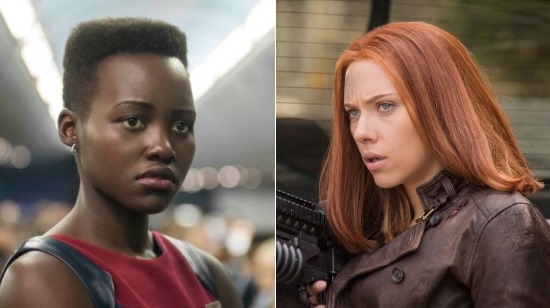 Idris Elba is getting some talented company in Disney's The Jungle Book. Scarlett Johansson and Lupita Nyong'o are reportedly in talks for the Jon Favreau-directed feature, a live-action/CG hybrid based on Rudyard Kipling's classic tales. Hit the jump to find out which characters they'll be playing.
Johansson is negotiating to voice the python Kaa, who hypnotizes and then devours other animals. (Kind of like her Under the Skin character, then?) She is the secondary antagonist of the film, after Elba's vicious tiger Shere Khan.
Few details have been revealed about Justin Marks' script for The Jungle Book, but it's expected to be a more family-friendly than the competing Jungle Book movie being developed by Warner Bros. Andy Serkis is directing that one, and he's been talking up how "dark" and "true-to-life" his take on the story is.
Both Johansson and Nyong'o are coming off of some great buzz. The Jungle Book will be the first role Nyong'o has booked since her 12 Years a Slave Oscar win in March. If there's a downside to her casting, it's that it may suggest she's no longer in the running for Star Wars Episode VII as previously rumored.
Johansson is in the midst of a very hot streak. She's recently earned tons of acclaim for her work in Don Jon, Her, Captain America: The Winter Soldier, and Under the Skin. She's worked with Favreau twice before, in Iron Man 2 and the upcoming Chef.
Given what an attractive cast Favreau is putting together, it's kind of a shame they'll all be hiding behind CG. Nyong'o was crowned People's Most Beautiful just this week, Johansson has twice been named Esquire's Sexiest Woman Alive, and Elba was Essence's Sexiest Man of the Year last year.
The Jungle Book opens October 9, 2015.