Cool Stuff: Hot Toys Robocop ED-209 Sixth Scale Figure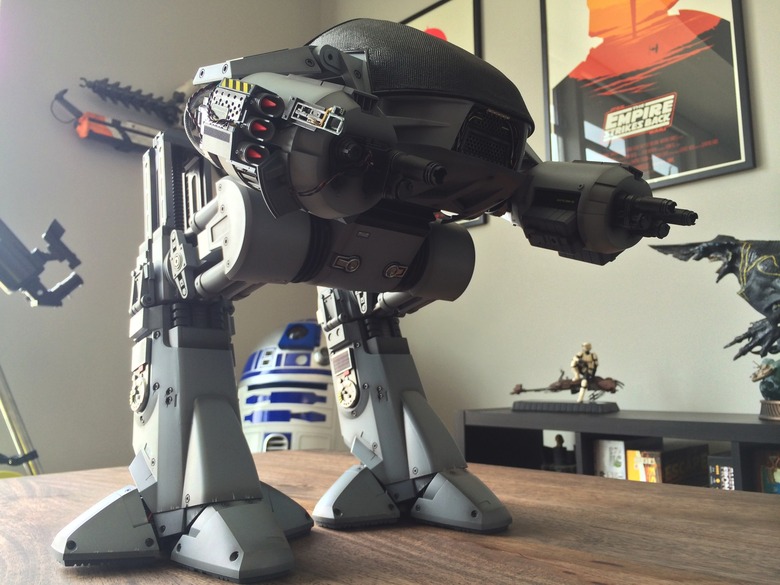 Sideshow Collectibles sent me a sample of Hot Toys' Robocop ED-209 Sixth Scale Figures. Lets unbox this figure and take a look at whats inside the box. After the jump you will find photos of the Hot Toys Robocop ED-209 Sixth Scale Figure, alongside my thoughts on the product.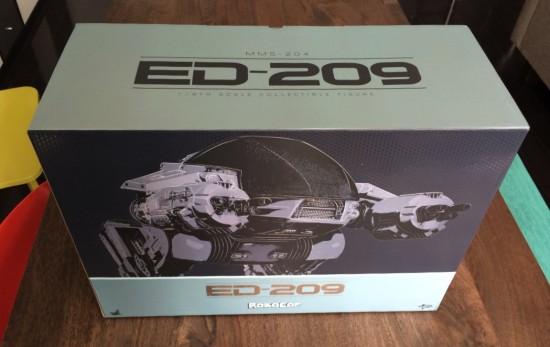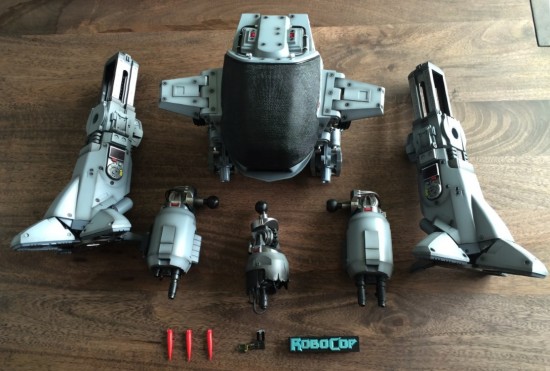 I grew up watching Robocop, and it remains one of my favorite science fiction films of the 1980's. The film's titular character is iconic, but few would dispute that ED-209 is equally as cool and one of the memorable characters of the series.  Hot Toys has previously released a 1/6th scale ED-209 Collectible in 2006, but I never personally got my hands on one.
Sideshow/Hot Toys Robocop ED-209 Sixth Scale Figure Reviewed
The new Hot Toys Robocop ED-209 sixth scale figure features a number of improvements. This release has a new sculpted body and improved articulations on arms, legs, and claws, which Hot Toys promises will "better simulate ED-209's movement in RoboCop." Since I havent seen the 2006 release, its hard for me to compare against the previous version. I can tell you that the figure has a ton of articulation to allow your choice of completely customizable poses and set-up. Its hard for me to show off all the configurations in photos, so I'll show you the image from the Hot Toys' instruction manual that illustrates the many possible movements available with this figure.

The figure also comes with a new remote controlled sound effect feature. Fans of the film will have fun hearing ED-209 project the droid's iconic lines from the movie. One of the coolest things about this is that the sound features are remote controlled from a remote that is cleverly hidden in a stand that serves as a Robocop logo stand which is a nice addition to the presentation of this piece.
The sound feature includes three memorable quotes and various sound effects from the film:
'Please put down your weapon. You have 20 seconds to comply.'
'You now have 15 seconds to comply.'
'You are in direct violation of Penal Code 1.13, Section 9. You have 5 seconds to comply. Four...three...two...one...I am now authorized to use physical force.'
The figure is highly detailed, featuring everything from nicks and scratches in the droids metal armor, bullet hole damage, wires, extendable blades, and more. The right arm complete with rocket launcher looks especially cool. While the product is very detailed, it is still produced in plastic, so it doesn't look like metal when you get close-up. But on a shelf from a few feet away, you'd never be able to tell the difference between this being a figure or an insanely detailed collectible statue.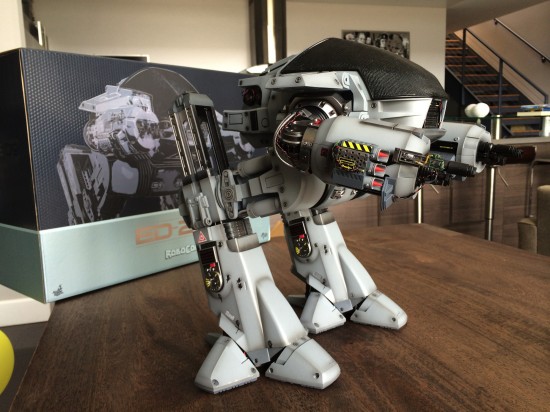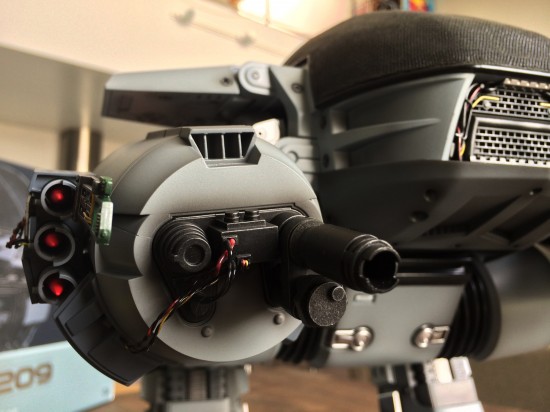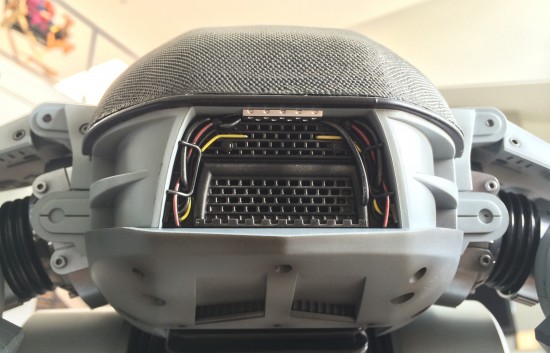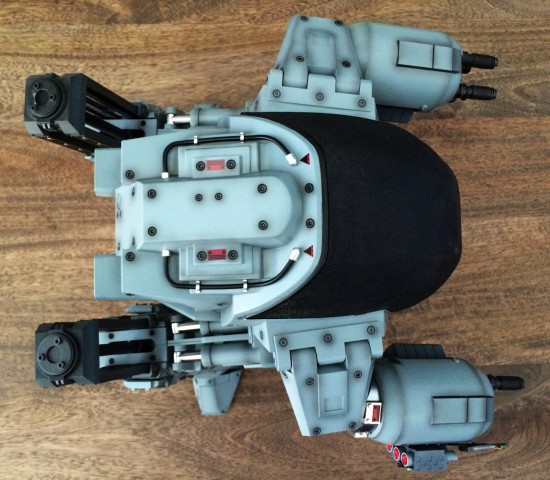 One thing that might surprise you is how big this figure actually is — It stands almost 14 inches tall and weighs nearly 15 pounds.  The figure also comes with an interchangeable battle damaged arm which can be installed to replicate a more veteran ED-209. The battle damaged arm looks awesome, completely rippled apart with wires and rods dangling from the exposed interior.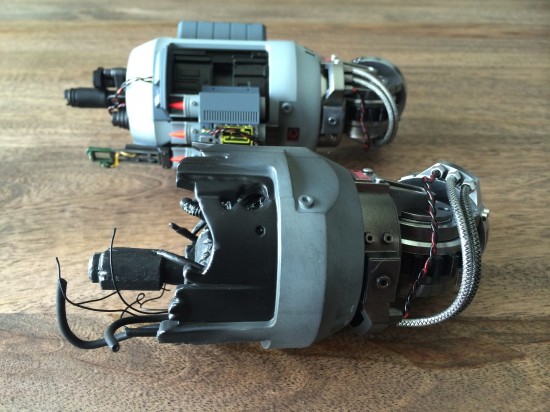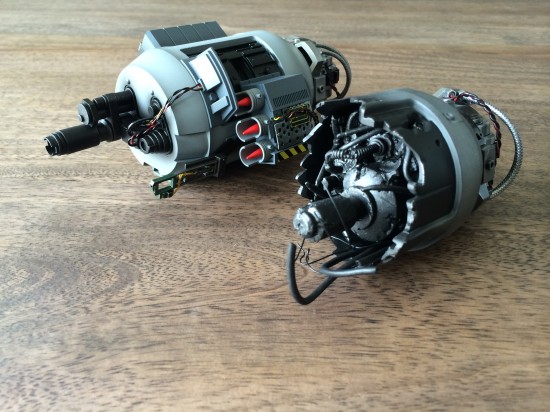 I kind of wish they had used the budget to create some light-up features rather than the remote control sound effects, but thats probably more a matter of my tastes than a fault with the product. My only complaint is that the hearing-aid sized batteries in the remote are hard to install and that the three AAA batteries required are not included in the box (you have been warned). Those nitpicks aside, any fan of Robocop will love this release. Did I say how awesome it looks on a shelf?
Here is the official product description for the Hot Toys Robocop ED-209 Sixth Scale Figure:
Sideshow Collectibles is proud to present Hot Toys' ED-209 Sixth Scale Figure, from the 1987 classic, Robocop. The movie-accurate ED-209 is highly detailed featuring a newly sculpted body, interchangeable battle damaged arm, and improved articulation in the arms, legs and claws to better simulate the enforcement droid's movements. The ED-209 MMS Sixth Scale Figure speaks three memorable quotes along with various sound effects from the film.
The Hot Toys Robocop ED-209 Sixth Scale Figure is sold in the US by Sideshow Collectibles for $409.99.