Sequel Bits: 'Pitch Perfect 2', 'Taken 3', 'How I Met Your Dad', '24: Live Another Day'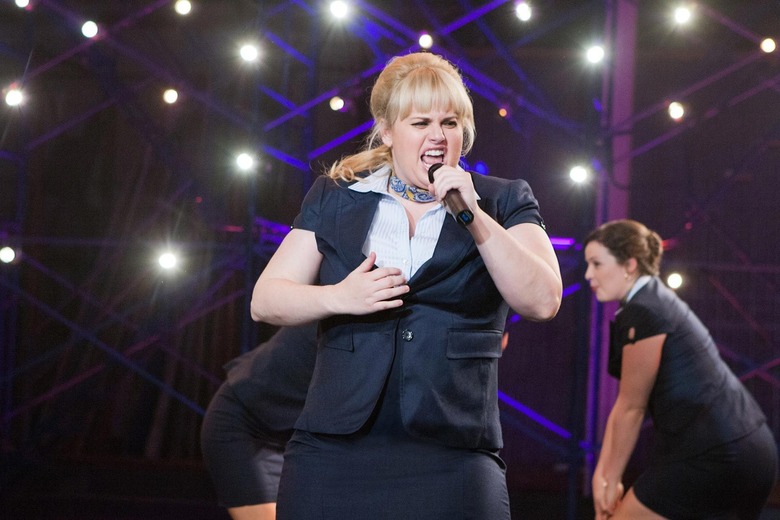 Sequels: They aren't just for movies anymore! Today's Sequel Bits includes updates on CBS' How I Met Your Mother spinoff How I Met Your Dad, Lifetime's Flowers in the Attic sequel Petals on the Wind, and Fox's 24 follow-up 24: Live Another Day. Also after the jump:
Rebel Wilson tweets a look at Pitch Perfect 2 rehearsals
Another Sisterhood of the Traveling Pants movie is coming
Luc Besson doesn't sound so sure about a Lucy sequel
... but he seems quite certain Taken 3 has the best script of the series
Speaking of which, here's how to be an extra in Taken 3
The Crouching Tiger prequel will go to the land of the hobbits
1st day of PP2 rehearsals! @EsterDean @Brittanysnow @kelleyjakle @AlexisKnapp @hanamaelee @ElizabethBanks x pic.twitter.com/hgiElAUHjh

— Rebel Wilson (@RebelWilson) April 22, 2014
Anna Kendrick is sadly missing, but Wilson, Ester Dean, Brittany Snow, Alexis Knapp, Kelley Jakle, Hana Mae Lee, and director Elizabeth Banks are all present and accounted for. Pitch Perfect 2 bows May 15, 2015. [Twitter]
The Sisterhood of the Traveling Pants could be getting back together for another sequel. Alloy Entertainment is developing Sisterhood Everlasting, based on the book of the same title by Ann Brashares. In the new installment, the girls find that they've been drifting apart but reunite for a trip.
Ken Kwapis, who directed the original, is set to return. It's less certain whether the leads from the first two movies (Blake Lively, Alexis Bledel, America Ferrara, and Amber Tamblyn) will also come back, as no deals are in place. But odds are good as all four are said to be in discussions. [
]
Scarlett Johansson finally gets her own superhero movie this summer, sort of, with Luc Besson's Lucy. But you shouldn't necessarily expect it to launch a superhero frachise. Here's what Besson had to say about the possibility of a Lucy 2.
I never think about franchises, to be honest. I always just do the film. The funny thing is that when Taken worked so well, the studio said, "Can you make a second one?" My first reaction was to say no because I didn't know what to do. Then, I started to think about it, and I got an idea that was good and logical, so we did it. With Lucy, you'll see the end of the film. I don't know how we can make a sequel, but if the film is huge, then I will think about it.
That said, as he pointed out, he wasn't necessarily planning to turn Taken into a series either — but now he's talking excitedly about Taken 3.
Taken 1 and 2 is, in fact, the same film in two parts. The first act, someone is taken, and the second act is that revenge. You can see the films back to back and they go together. The third film is another story that has nothing to do with him and his family. No one is taken. The dog is not taken. It's another story with the same characters. It's different, but it's very good. It's probably the best of the three for me, in terms of the script. The first one was really not pretentious. It was a small film.
If you're excited about Taken 3 as well, you can sign up to be an extra. The film is set to shoot this week in Georgia and they're looking for "young men and women, college age (18-25), with 'attractive types, hipsters, edgy and/or character types as well' of all ethnicities." Get details at
.
Taken opens January 9, 2015. Lucy premieres August 8. [
]
Following a lengthy shoot for Peter Jackson's The Hobbit trilogy, New Zealand is about to welcome another fantasy film. The Crouching Tiger, Hidden Dragon sequel The Green Destiny is set to shoot in the country, thanks in no small part to the production incentives being offered.
Yuen Woo-ping, who served as the action choreographer on the first film, is directing this time around. Michelle Yeoh and Donnie Yen will star. Production begins this July in New Zealand and China. [
]
CBS' How I Met Your Mother spinoff How I Met Your Dad found a new Josh Radnor in Greta Gerwig, and now it has a new Bob Saget in Meg Ryan. The actress has been tapped to narrate the sitcom as a future version of Sally, the lead played by Gerwig. Like Saget, Ryan won't physically appear on the show.
The romcom queen seems like kind of the perfect fit for a show that's all about finding love. Let's just hope that her version of the story doesn't end with a cheap twist that pisses off millions of fans. [
]
Lifetime has revealed the first trailer for its Flowers in the Attic sequel Petals on the Wind. Fans of the last TV movie will be glad to see that the next one looks just as ridiculously, decadently cheesy as its predecessor.
Petals on the Wind airs May 26 at 9 PM on Lifetime. [
]
A new batch of photos from behind the scenes of Fox's 24: Live Another Day show the cast and crew hard at work. Not as hard at work as the perpetually imperiled and sleep-deprived Jack Bauer, perhaps, but hard at work nonetheless.
24: Live Another Day premieres May 5 at 8 PM on Fox.
Line has more photos.