Brad Bird Fighting For 'The Iron Giant' Blu-Ray Release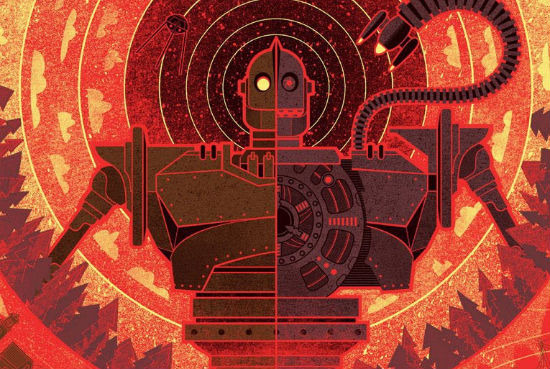 These days, it's easy to say you love Brad Bird. After The Incredibles, Ratatouille and Mission: Impossible Ghost Protocol, you'd be hard pressed to find someone who doesn't like his work. But many of us were on board from the beginning with The Iron Giant.
In the summer of 1999, Bird was just another untapped talent from The Simpsons who went to college with lots of famous people. He was making his first feature. Unfortunately, the film was released on the same weekend as The Sixth Sense. Warner Bros. didn't know what to do with the film, or how to market it, and it did not connect with audiences. From a reported $70 million production budget, The Iron Giant only grossed $23 million and was deemed a failure. However, the few people who actually saw the movie instantly fell in love with it. It was obvious the film had incredible heart and ambition, and was the work of someone with a bright future.
Despite the cult following that's developed over the years, Warner Bros. has never released a The Iron Giant Blu-ray. Recently on Twitter, Bird admitted he's been talking to them about it and they're interested. They just don't want to give the film the kind of release it deserves. He feels you can help.
Here are the two tweets in question:
"@SeriousBug: Any idea when we'll see The Iron Giant on Blu-ray?"

WB & I have been talking. But they want a bare bones disc. I want better.

— Brad Bird (@BradBirdA113) April 23, 2014
"@TheTrekNerd: Us consumers want better too. It's a classic, not fodder for the $1.99 bin at the grocery store."

Let them know; @WBHomeEnt

— Brad Bird (@BradBirdA113) April 23, 2014
To be fair, you can't really blame Warner Bros. for their skepticism. While Bird went on to win multiple Oscars at Pixar, and make hundreds of millions of dollars for both Disney and Paramount, the relationship with Warner Bros. was never the same after The Iron Giant. Stories of struggles on the film are the stuff of film legend. While the final product stands strong on its own, Bird never felt it was marketed in a way to give it a good shot at finding an audience. Bird has been great for several companies in Hollywood, but not Warner Bros.
Sure, over the years, The Iron Giant has found a devoted fan base. Its Mondo posters demand high prices and collectables are sought after. But none of that guarantees enough people would buy $30 Blu-rays with featurettes, commentaries and more. Making a good Blu-ray is a lot of work and costs a lot of money.
The message here is, both sides have a point. The Iron Giant has lots of fans but it's hard to fault a studio for not wanting to lost more money on a movie, even if that movie is really great. However, if you want to see The Iron Giant as a packed, collector's edition Blu-ray, tweet at @WBHomeEnt like Bird suggested.
Do you think we'll see The Iron Giant Blu-ray we deserve?
Header photo: Kevin Tong via Mondo, which would make a great Blu-ray cover if they're looking for one.