J.K. Rowling's 'The Casual Vacancy' To Become HBO Miniseries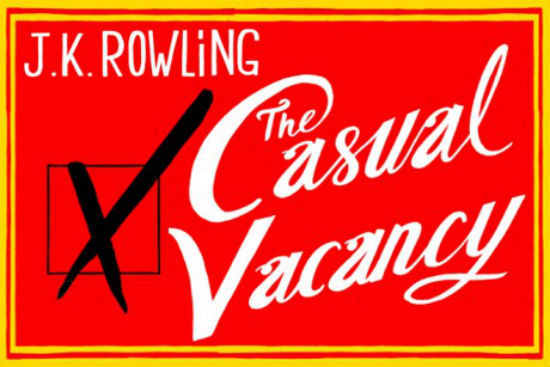 J.K. Rowling and Time Warner have a pretty good relationship. Together, they helped make one of the most successful and impressively coherent film franchises in history with Harry Potter. So it's of little surprise Rowling turned in their direction when looking for a place to air her follow up novel, The Casual Vacancy, as a miniseries.
BBC and HBO will co-produce a three episode miniseries of The Casual Vacancy, which will air on BBC One in the UK and HBO in the US. Read more about The Casual Vacancy HBO below.
The Hollywood Reporter broke the news of Rowling's Casual Vacancy coming to HBO. It's an update to the two-year old news the novel was getting the miniseries treatment by the BBC.
Also revealed, Sarah Phelps (EastEnders, BBC's Great Expectations) is writing the adaptation and Jonny Campbell (Eric & Ernie) is directing. It'll start shooting this summer.
Here's the description of Rowling's book, which is completely devoid of the fantasy that made her famous. Despite very mixed reviews, it sold over 6 million copies:
When Barry Fairbrother dies unexpectedly in his early forties, the little town of Pagford is left in shock. Pagford is, seemingly, an English idyll, with a cobbled market square and an ancient abbey, but what lies behind the pretty façade is a town at war. Rich at war with poor, teenagers at war with their parents, wives at war with their husbands, teachers at war with their pupils.... Pagford is not what it first seems. And the empty seat left by Barry on the town's council soon becomes the catalyst for the biggest war the town has yet seen. Who will triumph in an election fraught with passion, duplicity and unexpected revelations? Blackly comic, thought-provoking and constantly surprising, The Casual Vacancy is J.K. Rowling's first novel for adults.
Meanwhile, while this is in production, Rowling herself is working on the screenplay to Fantastic Beasts and Where to Find Them, the Harry Potter-inspired tale that'll soon become a movie franchise. And which company is releasing it? Time Warner's Warner Bros of course.
Thoughts on The Casual Vacancy coming to HBO?