Barbie Movie On Fast Track From Sony And Mattel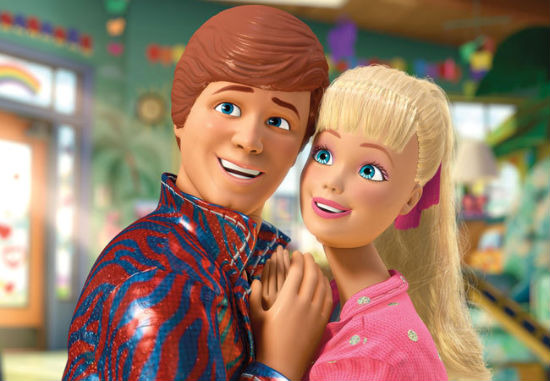 One of the biggest toy franchises in the world is in a race to the big screen. Sony has just signed a deal with with Mattel to make a movie version of Barbie. Jenny Bicks (What A Girl Wants, Rio 2) is writing the script, with the studio hoping to be shooting by the end of the year. Mattel agreed to the film based on a new pitch that would embrace Barbie's multiple careers and turn her into a fashionable chameleon who can jump from job to job, helping people around the world. Read more about the Barbie movie below.
Deadline broke the news of the Barbie movie. The article says Sony believes this to be their next huge franchise and everything on it is happening very quickly.
They describe the pitch for a contemporary series as a "modern Mary Poppins" where a young actress in the lead, as well as actors playing Ken and Barbie's best friend, would go around the world doing different jobs, helping people along the way. This would incorporate Barbie's girl-power message, as well as her merchandising roots. Multiple jobs, multiple outfits, multiple locations, etc. Also, it would allow Sony to lock three newcomers for a numerous movies and then just add big stars around them in supporting roles. It's franchise 101.
Here's what Sony's president of production Hannah Minghella said to Deadline about the deal.
 We've always thought that the Barbie story had great potential, but a universe of possibilities opened up when Jenny [Bicks], Walter [Parkes] and Laurie [MacDonald] brought us their unexpected, clever, and truly funny concept. It captures everything that has made Barbie a classic for generation after generation while also standing on its own, establishing Barbie as a truly original screen character.
While Barbie has appears in multiple Toy Story films (as seen above), Mattel only recently opened the full theatrical rights up to Hollywood. Various teams reportedly pitched them on different takes. Here's what Tim Kilpin, Mattel's executive vice presidnet of Global Brands, said about the decision:
Barbie has entertained children and inspired their imagination and creativity for more than 50 years. Now is the right time in Barbie's celebrated history for her to star in a live-action, contemporary comedy that brings her playful personality to life for generations of fans.
This has potential to be incredibly huge, or incredibly disappointing for fans young and old. Barbie is probably as recognizable a toy as Star Wars or Lego. Maybe more so. If it's done right, it could be the next Avengers size success. What do you think about a Barbie movie finally arriving?