11 New Photos From 'The Simpsons' Lego Episode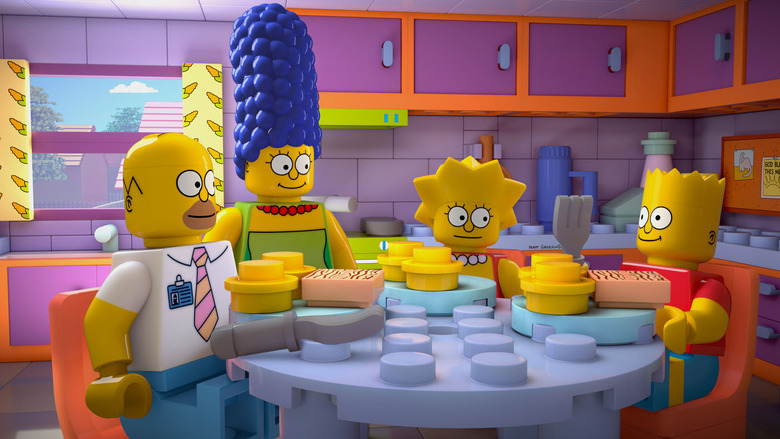 I think a great many people who gave up on The Simpsons years ago might tune in on May 4. That's when the long-in-development Lego episode of The Simpsons — called Brick Like Me – premieres. In the episode, Homer wakes up in a Springfield where everyone is Lego. He has to figure out what's going on. The show creators have mixed multiple forms of animation and teamed with Lego to create a wholly unique look for the episode, filled with puns and references to the collectable building toy.
Below, check out 11 new images from The Simpsons Lego episode featuring the characters as regular animation, Lego animation, and a blend of the two.
Thanks to Comic Book Movie for these images from The Simpsons Lego episode. [One image was pulled at the request of Fox. We'll let you guess which one!]
There were previously revealed images and info here.
The Lego episode of the Simpsons has been in development before producers even knew a similar idea was happening in The Lego Movie. Here's how producer Matt Selman described the development:
We didn't know about the movie [when this episode started developing]. For the record, we still don't know about the movie. [Laughs] Brian and I had been dreaming of doing a Simpsons Lego episode for as long as we could remember, and in early 2012 we started seriously talking about making it happen. Then we found out that Lego was into doing a Simpsons couch gag. So it was a magical coming-together of pretend yellow people.
You can read more over at Entertainment Weekly.
Here's the official description of the episode.
 THE SIMPSONS: Homer wakes up in a world where his family and everyone in Springfield are made of Legos and must"put together" how he got there to get home in the milestone 550th "Brick Like Me"; episode of THE SIMPSONS airing Sunday, May 4 (8:00-8:30 PM ET/PT) on FOX.