'Foxcatcher' Gets Oscar-Friendly November Release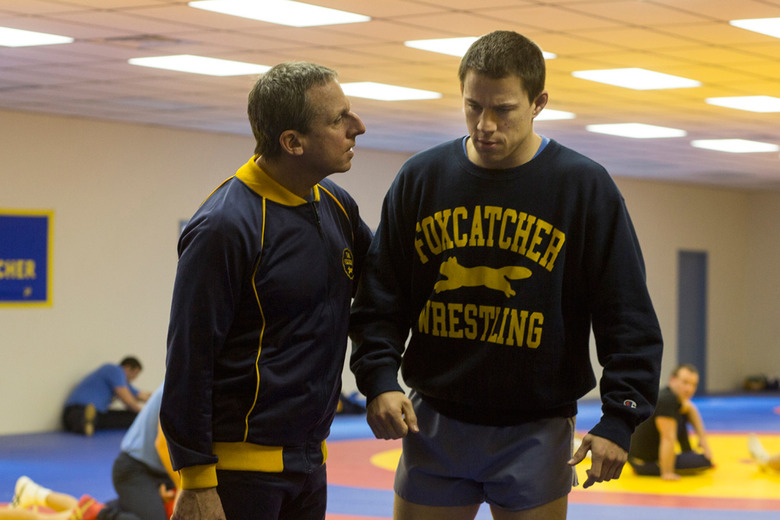 Bennett Miller has directed two movies and both have been nominated for Best Picture. He'll go for the three-peat this year with Foxcatcher. The true story starring Channing Tatum, Mark Ruffalo and Steve Carell was originally scheduled for release last December, but was delayed. Now Sony Pictures Classic and Annapurna have set the film for a November 14 release following a world premiere at the Cannes Film Festival. 
Here's the full press release on the Foxcatcher release date.
Sony Pictures Classics announced today that they will release Bennett Miller's FOXCATCHER in the United States on November 14.  The film will premiere in the In Competition Section at the 2014 Cannes Film Festival.
Directed by Bennett Miller (MONEYBALL, COPOTE), FOXCATCHER tells the gripping, true story of Olympic Wrestling Champion brothers Mark Schultz (Tatum) and Dave Schultz (Ruffalo) and their relationship with the eccentric John du Pont (Carell), heir to the du Pont Chemical fortune that led to murder.
The film is produced by Megan Ellison under her company Annapurna Pictures, as well as, Miller, Jon Kilik, and Anthony Bregman. Miller's prestigious cast includes Steve Carell, Channing Tatum, Mark Ruffalo, Vanessa Redgrave, Sienna Miller, and Anthony Michael Hall. The film was written by E. Max Frye (SOMETHING WILD, AMOS & ANDREW) and Dan Futterman (CAPOTE), the Cinematographer is Greig Fraser (ZERO DARK THIRTY), and the Production Designer is Jess Gonchor (NO COUNTRY FOR OLD MEN, MONEYBALL, TRUE GRIT, CAPOTE).
Here's the trailer for Foxcatcher, which will surely get a nice big push at Cannes and then again come November when it'll be positioned squarely for multiple Oscars.
November 14 will also see the release of the David Ayer Brad Pitt film Fury and the Farrelly Brothers' Dumb and Dumber To. The former has awards potential but you'd assume Foxcatcher will be opening limited. That means it'll go for the per-screen title while Dumb and Dumber To goes for the overall weeek.