Sequel Bits: 'Jurassic World', 'How To Train Your Dragon 2', 'Super Troopers 2'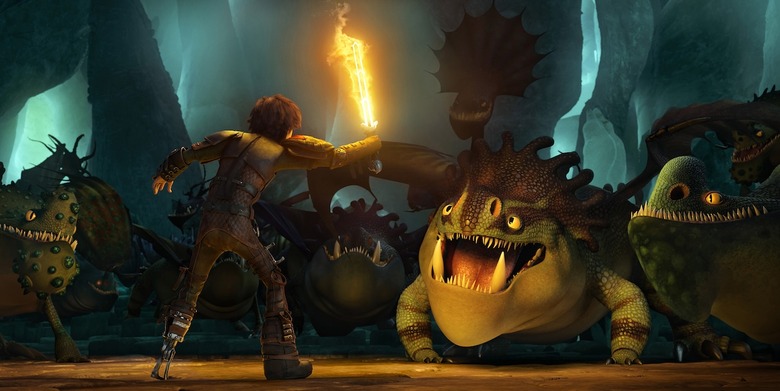 This edition of Sequel Bits covers everything from kid-friendly adventures to gritty thrillers, and everything in between. After the jump:
Get a peek at the Jurassic World Honolulu set.
Meanwhile, Jurassic World is casting extras in New Orleans.
How to Train Your Dragon 2 will open in IMAX.
... And to celebrate, here are some new pics and a new clip.
The Broken Lizard fellows talk Super Troopers 2.
Scott Derrickson explains why Ciaran Foy was chosen for Sinister 2.
Watch a trailer for City State 2, the sequel to the Icelandic thriller.
Great to visit @UniversalPics set of the new @JurassicPark movie in #Honolulu today. Some serious equipment in use!! pic.twitter.com/CotmvtwxYX

— Benjamin Murphy CC (@benjmurf) April 18, 2014
Well, maybe the stunning vista, if you can ignore all the cars.
Meanwhile, even as shooting continues in the Aloha State, the Jurassic World team is getting prepped for their next location, New Orleans. To that end, they're holding a casting call for "men, women, military service members and families ages 5 to 85" this Saturday, April 26. Filming will begin June 2. Get more details here.
Jurassic World opens June 12, 2015. [OLV]
Although it's been a while since we got a real update on Super Troopers 2, the Broken Lizard guys insist it's still happening. It's just a matter of getting the money together, according to Steve Lemme.
Yeah, the sequel is going to happen. We closed the deal with Fox and the script is written; pre-production will be when we get the money. It's a strange situation because the studio has given us the green light, but they're not financing the film. We're aware of all the bad press that came from Zach Braff's Kickstarter campaign, but then there's also Rob Thomas and the Veronica Mars situation. We are going to find the money for this. We've been approached by a number of people. It's a matter of figuring out the terms that are best for everybody.
Obviously, not every sequel turns out to be worth the wait. But Jay Chandrasekhar seems confident that they know what they're doing.
I'm a student of sequels and I know what they did wrong when you see them. Usually what they try to do is make them glitzier and broader and all that stuff. Our approach is not going to be that. If anything, the mustaches will be a little bigger, it'll be a little tougher maybe, but we're just going to make a second one. We're not going to dye our hair blond and spike it up or anything. This is going to be just another cop story.
Until that gets going, look for Chandrasekhar to bring his special brand of humor to Amazon. [Rolling Stone]
It was revealed last week that Ciaran Foy would be replacing Sinister director Scott Derrickson for the sequel. Now Derrickson explains just why Foy was the right guy for the job.
I remember reading the strong reactions people had to Citadel when it played at SXSW, so in January I watched it on VOD. I was struck by Ciaran's confidence as a genre director, and how he sustained tension but also had a distinctively European cinema style and sensibility. That's precisely what I was looking for in a director for Sinister 2 – somebody who could sustain tension but also had a classic sense of cinema style and control. He is also clearly very good with actors — including child actors — and that was also a requirement for the director of this film. And then when I met him, I was impressed by his intelligence and his unusual blend of humility and creative confidence. We could not have gotten a better director for Sinister 2.
Though he's not directing, Derrickson is still on board to write and produce. Sinister 2 will shoot this summer. [Movies.com]
How to Train Your Dragon 2 will be flying into theaters on a scale worthy of Toothless. DreamWorks announced this week that the animated sequel will be digitally remastered for an IMAX 3D release. The original How to Train Your Dragon was also released in IMAX 3D. [THR]
Until then, you can enjoy a new look at How to Train Your Dragon 2 in the form of plain old regular-sized 2D images.
There's also a new non-IMAX, non-3D video. Much of the footage below was already revealed in the opening scene released this weekend, but this one includes a few bits and pieces that the other clip didn't.
Dean DeBlois returns to direct How to Train Your Dragon 2, which opens June 13. [via Screen Rant]
The City State remake has yet to come together, but while we wait a new sequel is inching closer to theaters. Directed once again Olaf de Fleur Johannesson, the sequel to the Icelandic thriller picks up where the last one left off.
The new trailer is all in Icelandic with no subtitles, but you don't need to understand the narrative specifics to get a good sense of the film's style and tone. Check it out below.
City State 2, or Borgríki II as it's called in its native Iceland, does not yet have a U.S. release date. [Twitch]