Star Wars Bits: Producer Talks Episode VII Canon, 3D Blu-Ray Rumor Plus Books, Boba Fett And Breakfast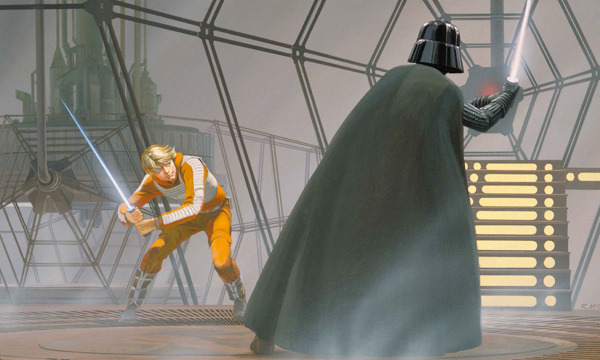 We may receive a commission on purchases made from links.
There's a galaxy of Star Wars news out there, so let's dive into today's Star Wars Bits. Below, read about the following:
The Star Wars film canon is limited to the films.
Boba Fett actor Jeremy Bulloch jokes about Star Wars Episode VII return.
Behind the Scenes stage hosts for Star Wars Celebration Anaheim revealed.
A secret, high level Star Wars meeting might be taking place this week.
Watch a full panel about writing for the Star Wars expanded universe.
Four new kids books will bridge the gap to Episode VII.
Are the Star Wars films coming to 3D Blu-ray?
William Friedken talks about Star Wars legacy and turning down the film.
Actor Anthony Ingruber hints he's in Episode VII.
Super 7 will release limited edition Star Wars screen printed posters.
At WonderCon this weekend, producer Simon Kinberg talked to IGN about Star Wars. Kinberg is of course writing a Star Wars spin-off, producing Episode VII as well as Rebels so he's got a lot on his plate. And while his admission that Rebels could incorporate some Expanded Universe stuff was covered here, the first part has him talking about the movie canon being only contained to the movies. "I know, for the [Star Wars] movies, the canon is the canon," he said. "And the canon is the six films that exist." Here's the clip:
A story is going around that Jeremy Bulloch, the actor who played Boba Fett, mistakenly let something slip suggesting he'd be returning for Star Wars Episode VII. Well, the original source of the quote – Big Shiny Robot – has updated their story with the video that clearly shows he was joking. That's not to say Boba Fett won't return at some point, just that Jeremy Bulloch hasn't been contacted about Star Wars Episode VII.
With WonderCon now over, all Anaheim eyes turn to Star Wars Celebration April 16-19 2015. There are sure to be tons of announcements leading up to the event but an early one is podcasters Jason Swank and Jimmy Mac will host the Behind the Scenes stage at the event. Thanks to JediNews.
This is really interesting. MakingStarWars.net has a piece claiming that a high-level, super secretive Star Wars meeting is taking place this Thursday, April 24, at Disney's Hollywood Studios in Orlando, Florida. Apparently, George Lucas will be there, Disney executives and a mysterious "cast." Could this mean a Episode VII announcement is coming? We can hope! Head to that link for more details.
Jedi News has two links (here and here) to a long panel discussion with Kevin J Anderson, Dave Wolverton and Mike Stackpole about writing in the Star Wars Expanded Universe.
Later this year, Lucasfilm will publish four books that tell the tales of the original Star Wars trilogy in a simple way to get kids ready for Episode VII. You can read the full press release here, but it'll start with The Adventures of Luke Skywalker (use Ralph McQuarrie's art work seen above), and then go through the films to Return of the Jedi. Here's a video with the authors.
A fan emailed JediNews to alert them to this page on Amazon, which appears to be pre-orders for the six Star Wars films on 3D Blu-ray. Does that mean the films are coming to 3D Blu-ray? It's possible, maybe even probable, but the same page also has Episodes VII, VIII and IX listed so I wouldn't put that much faith in it. It's just a sign-up to let people know when, or if, it ever happens.
In an interview with Vanity Fair, Exorcist director William Friedkin talks about how he had a company with Francis Ford Coppola and Peter Bogdanovich in the mid-Seventies. They turned down producing Star Wars because they didn't think George Lucas could pull it off. The film went on to totally destroy Friedkin's next movie, Sorcerer, at the box office.
StarWars7News has broken down the tweets of actor Anthony Ingruber and believes he might be in Star Wars Episode VII. Head there to read more.
Finally, in a piece of news that's near and dear to my heart, Super 7 has revealed they'll be releasing officially licensed Star Wars screenprints starting May 4. The official announcement is here and JediNews has the first poster.