Watch New 'Batman Beyond' Short By Darwyn Cooke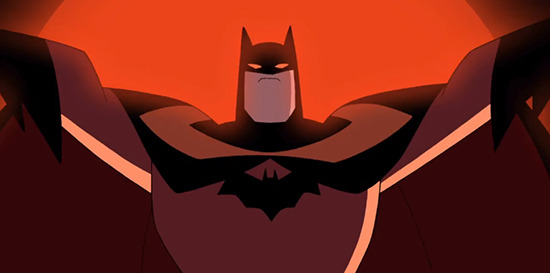 We have a new bit of Darwyn Cooke Batman Beyond animation!
Fifteen years ago, comic book writer/artist Darwyn Cooke had a hand in creating the opening titles for the show Batman Beyond. The show was a follow-up to Batman: The Animated Series and The New Batman Adventures. It pushed the story timeline forward to 2039. At that point Bruce Wayne's health is failing, and he passes the Batman identity to young Terry McGinnis. The show debuted in 1999 and ran only through 2001. But the McGinnis character has endured.
Now, as part of DC and WB's celebration of Batman's 75th anniversary, Cooke has come up with a new one-minute Batman Beyond short. While this new bit has a limited runtime, it brings Kevin Conroy and Will Friedle back to their roles as an aged Bruce Wayne and his young protege Terry McGinnis. Most of the action here is simply that: action. But there's a neat nod to Alien, and an ending that gives fans of various Batman incarnations something to look at.   
Should you want to see this broadcast on television, it will air on Cartoon Network after Teen Titans this coming Wednesday, April 23. The short debuted at WonderCon this past weekend, and hit the web via Yahoo.