'Despicable Me Minion Mayhem' Ride Opens At Universal Studios Hollywood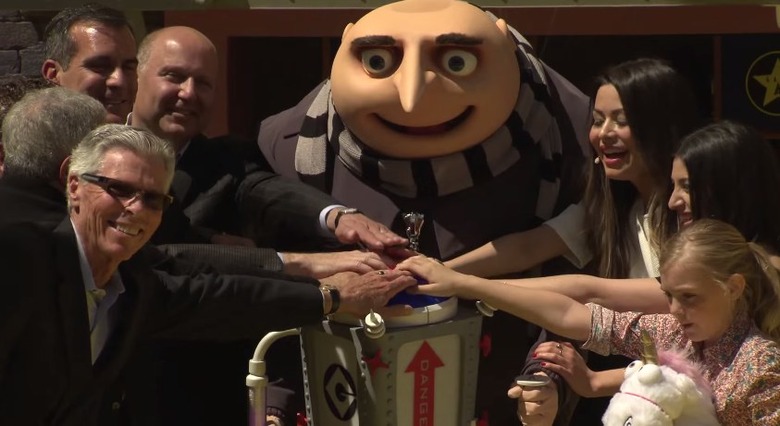 Last week I attended the grand opening of the Despicable Me Minion Mayhem ride at Universal Studios Hollywood theme park. The new ride, which originally debut at Universal Orlando, features a bigger exterior and also includes a Super Silly Fun Land playground, based on the boardwalk pier where Gru  falls in love with the three girls he adopted in the movie Despicable Me. After the jump you can find photos I took from the event, giving you an early look at the new ride, playground and store, all of which are now open.
The Despicable Me Minion Mayhem ride is a motion simulator that takes visitors into Gru's lab where he and the Minions are looking for new recruits, and are hoping to turn humans into Minions. Things go horribly wrong and all the while Margot, Edith and Agnes are trying to give Gru a present to mark the anniversary of him adopting them. The story doesnt have to make a whole lot of sense, because the real point of the ride is to throw the visitors into the craziest roller-coaster ride through anything and everything that I imagine possibly could have come up in a storymeeting full of creatives asking questions like: "wouldn't it be cool if we through the audience through a... and this... and that..." You can tell they had fun constructing the series of fantastic events that happen in this ride.
Minion Meyhem is a lot of fun, and I'm sure kids will love it. That said, it is still yet another Universal theme park simulator ride where visitors sit in a moving vehicle wearing 3D glasses and staring at a giant screen. I wish the park had more room for old school ride experiences that move further than a hydraulic gimbal beneath a set of seats will allow.
There are also some missed themeing opportunities, like the 3D glasses are stock/standard Dolby 3D glasses — you would think an attraction that promises to turn you into a minion would have had 3D glasses themed off of the Minion's trademarked goggles. Heck, even the Marvel movies theme the Real D glasses for theatrical screenings, its not too much to ask, right? The themeing of the outside and inside of Gru's house is fantastic, filled with fun details which will be photographed by millions of tourists each year.
The Super Silly Fun Land has a bunch of small kiddie rides, and an area which leave many kids soaked. The coolest part however is probably the little carnival stand which is accurately recreated from the first movie, allowing kids to try to win Agnes' fluffy pink unicorn for themselves and be part of the Despicable Me world.
Despicable Me Minion Mayhem Ride at Universal Hollywood Grand Opening Photos
Inside the Despicable Me Minion Mayhem Ride at Universal Hollywood
Universal Hollywood's Super Silly Funland Photos
You can watch a video from the grand opening below: