Watch Five Minutes Of 'How To Train Your Dragon 2' Plus WonderCon Video Blog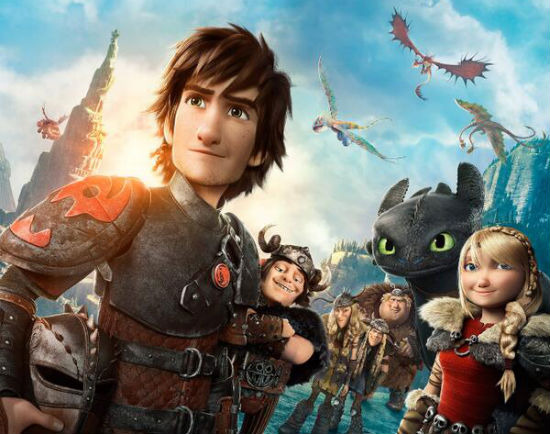 The first five minutes of How to Train Your Dragon 2 are now online. This is the same footage director Dean DeBlois and star Jay Baruchel presented at WonderCon 2014 this weekend so you now have a unique opportunity to check out the footage. Below not only can you watch the beginning of the film, you can watch a video blog reaction of it shot at WonderCon featuring myself, Peter Sciretta and Russ Fischer.
Then, as an added bonus, we'll also discuss our thoughts on footage screened from Wes Ball's YA adaptation, The Maze Runner. Check out the How to Train Your Dragon 2 opening and a video blog reaction blow.
First up, Yahoo premiered the first five minutes (which is actually the first eight minutes, edited down) of How to Train Your Dragon 2.
Looks pretty cool, yes? We thought so too, as you can see in this video blog. We also discuss The Maze Runner, which was on the Fox Panel at WonderCon 2014 Saturday.
How to Train Your Dragon 2 hits theaters June 13. It features the voices of Jay Baruchel, Gerard Butler, Craig Ferguson, Kit Harington, Cate Blanchett, Djimon Honsou, America Ferrera, Jonah Hill, Christopher Mintz-Plasse, T.J. Miller and Kristen Wiig. Here's the plot synopsis:
From the studio that brought you "Shrek," "Madagascar" and "Kung Fu Panda" comes "How to Train Your Dragon." Set in the mythical world of burly Vikings and wild dragons, and based on the book by Cressida Cowell, the action comedy tells the story of Hiccup, a Viking teenager who doesn't exactly fit in with his tribe's longstanding tradition of heroic dragon slayers. Hiccup's world is turned upside down when he encounters a dragon that challenges he and his fellow Vikings to see the world from an entirely different point of view.
The Maze Runner opens September 19. Based on a novel by James Dashner, it stars Dylan O'Brien, Kaya Scodelario, Will Poulter, Thomas Brodie-Sangster and Aml Ameen. And here's its plot:
When Thomas (Dylan O'Brien) wakes up trapped in a massive maze with a group of other boys, he has no memory of the outside world other than strange dreams about a mysterious organization known as W.C.K.D. Only by piecing together fragments of his past with clues he discovers in the maze can Thomas hope to uncover his true purpose and a way to escape. Based upon the best-selling novel by James Dashner.