New Joss Whedon Film Released Online; Check Out A Trailer And Posters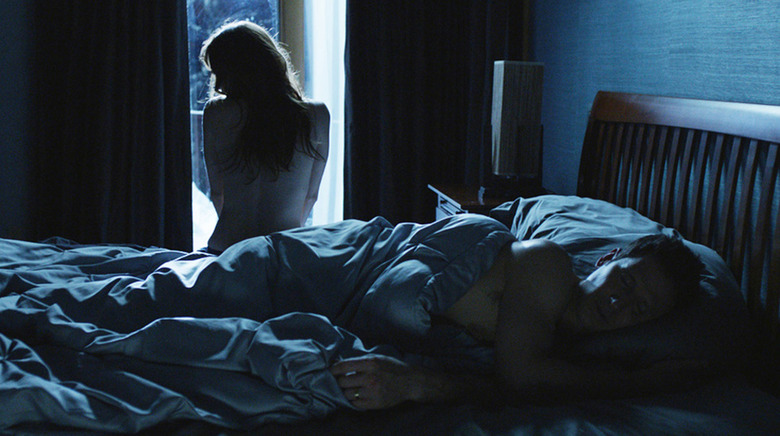 Avengers: Age of Ultron is currently in production but there's another new Joss Whedon film now available online. In Your Eyes, a new film written and produced by Whedon, premiered Sunday at the Tribeca Film Festival. Following the screening, Whedon announced the film would immediately be available online to download for $5. It's a "metaphysical romance" starring Zoe Kazan, Michael Stahl-David and directed by Brin Hill.
Below, watch a video message from the writer/producer and find out how to download the new Joss Whedon film.
First up, here's Whedon's announcement:
The film is available for full download at www.inyoureyesmovie.com. Here's a trailer:
Here are the posters:
And finally, all the info in the press release. Kudos to Whedon and his team for this innovative and surprising distribution model:
At the Tribeca Film Festival last night, Joss Whedon and Kai Cole's Bellwether Pictures made an unexpected move with its latest feature, IN YOUR EYES, giving instant access directly to fans around the world with a digital release immediately following its world premiere at the Festival. Whedon announced the plan in a surprise post-screening video message (https://vimeo.com/92169364 ).
IN YOUR EYES is available now as a $5.00 digital rental on the film's website: www.inyoureyesmovie.com. The release is being powered by the Vimeo On Demand platform and has been translated into Spanish, German, Portuguese, French, and Japanese for the worldwide release.
Bellwether Pictures, founded by Joss Whedon and Kai Cole, is a micro-studio committed to creating quality independent films and utilizing modern tools of distribution to bring these titles directly to their audience.
The company's first film was Whedon's contemporized Much Ado About Nothing. Their newest project, IN YOUR EYES, written and executive produced by Whedon and directed by Brin Hill (Ball Don't Lie), adheres to this mission by skipping the traditional modes of distribution and taking the film directly to fans via a digital distribution strategy.
Cole explained: "It was always the plan to release IN YOUR EYES in a new and exciting way. It's no secret that the distribution landscape is shifting rapidly and there are tools at our disposal as filmmakers that we could only dream about ten years ago."
In partnership with Bellwether Pictures is producer Michael Roiff's Night & Day Pictures (Waitress, Save the Date), which shepherded the film through production and has been instrumental in forming and executing the release strategy.
Roiff echoed Cole's sentiments: "We've been aiming to do something like this from the get-go. When you work with Joss and Kai – you don't get to say 'but this is how it is usually done', you have to say 'and now for something completely different'." He went on to say, "Finding a partner like Vimeo to power this release was incredible. They are fantastic people working to make the future of distribution happen today."
"We are honored to be partnering with the masterminds behind IN YOUR EYES to bring the film directly to audiences worldwide," said Vimeo's General Manager of Audience Networks Greg Clayman. "As big Whedon fans we were drawn to the film immediately and our shared vision for disrupting traditional distribution models made this an amazing collaboration all around."
A timeless boy-meets-girl story, wrapped in a supernatural, Whedonesque world, IN YOUR EYES stars Zoe Kazan, Michael Stahl-David, Nikki Reed, Mark Feuerstein, Jennifer Grey, and Steve Howey.
In Your Eyes Synopsis
In the frozen East Coast winter, Rebecca (Zoe Kazan) is withering away in a life of cocktail parties and lonely nights as the sheltered, soft-spoken wife of a successful doctor. Across the country in sun-drenched, arid New Mexico, charismatic ex-con Dylan (Michael Stahl-David) is struggling to find his footing and a fresh start. When these polar opposites realize they share an inexplicable connection, a unique metaphysical romance begins.