/Film Previews 20 Minutes Of 'Maleficent' [Video Blog]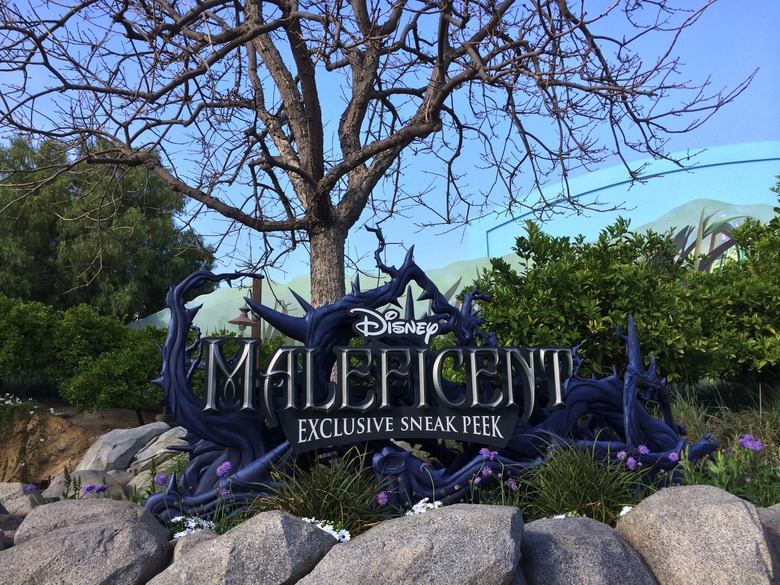 This weekend WonderCon took place in Anaheim California. Despite the fact that the Anaheim Convention Center is a few steps away from Disneyland, Disney decided not to have a presentation at the convention. Instead they launched a 20 minute preview of Maleficent in their theme park across the street. The preview is being shown in the Bugs Life Theater in Disney California Adventure theme park until June so all park visitor will have a chance to experience the magic complete with 4D effects. Germain Lussier and I are both card carrying members of the Disneyland annual passholder club, so after walking the show floor at WonderCon on Friday, we visited the park to take in the sneak preview. After the jump you can watch a video blog where we give our reaction to the Maleficent Preview footage, along with a brief written description of the footage screened.
Maleficent Preview at DCA Video Blog Reaction
Here is a description of the footage from Germain Lussier:
The first was a clip from the party for the birth of baby Aurora. Maleficent enters and curses the baby to fall into a deep sleep after her 16th birthday. The interesting thing in
the subtext though, are the glances exchanged between she and the King, played by Sharlto Copely. It's almost like these two used to be together. She makes him beg to save the child, which is when the provision is put in about true love's kiss.
The second scene is Aurora walking in the woods. Maleficent casts a whimsical spell and gently floats her to a more secluded, darker section of the woods. The princess then wakes up to discover a lively, dark, but beautiful area that looks much like Pandora in Avatar. She
and Maleficent exchange words about "being scared" like you've seen in the trailers, then the scene cuts.
Finally, the footage presentation ended with a basically trailer montage of huge epic battles, Maleficent flying around with wings and a big dragon.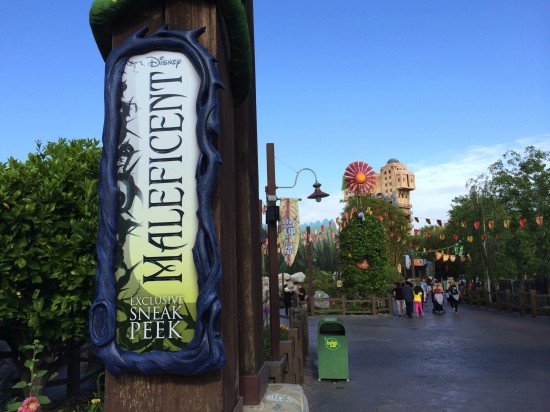 The best part of seeing this footage at Disney's California Adventure is the 4D experience. Things like specially timed lighting tricks, smoke, fire effects and more are usually reserved for familiar, old films or theme park rides. For all all intents and purposes, this is a theme park ride. But it's also a preview of an upcoming release. So it's cool and rare to enjoy 4D effects on a movie that hasn't been release yet.