'Maleficent' Featurette And Images: Who's Afraid Of Angelina Jolie?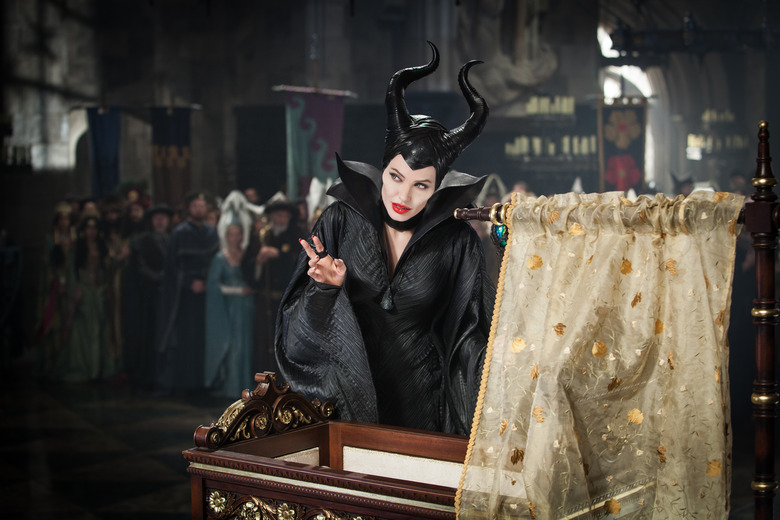 From some angles, the fact that Maleficent retraces a familiar path is the whole point. The Sleeping Beauty villainness has remained popular over the decades, and Disney's counting on that to turn her movie into a hit. At the same time, though, the studio would like to stress that Maleficent isn't just more of the same-old same-old.
A new Maleficent featurette plays up what's fresh about this take on the tale. It's not a retelling but a "reinvention" of the story, according to screenwriter Linda Woolverton — but one that "respect[s] the classic," star Angelina Jolie reassures us. Basically, as star Elle Fanning puts it, it's "the classic story of Sleeping Beauty plus so much more. Watch the video and check out some new photos after the jump.
[via Screen Crush]
The film's aim is to tell Maleficent's side of the story, but this particular featurette may go too far in softening her image. When Sleeping Beauty herself (Fanning) laughs that she never thought Maleficent was all that scary, the whole "Mistress of All Evil" title starts to seem like a joke.
Directed by Robert Stromberg, Maleficent lands in theaters May 30. Sharlto Copley, Sam Riley, and Brenton Thwaites also star.
"Maleficent" explores the untold story of Disney's most iconic villain from the classic "Sleeping Beauty" and the elements of her betrayal that ultimately turn her pure heart to stone. Driven by revenge and a fierce desire to protect the moors over which she presides, Maleficent cruelly places an irrevocable curse upon the human king's newborn infant Aurora. As the child grows, Aurora is caught in the middle of the seething conflict between the forest kingdom she has grown to love and the human kingdom that holds her legacy. Maleficent realizes that Aurora may hold the key to peace in the land and is forced to take drastic actions that will change both worlds forever.