'The Immigrant' Trailer: Marion Cotillard Chases The American Dream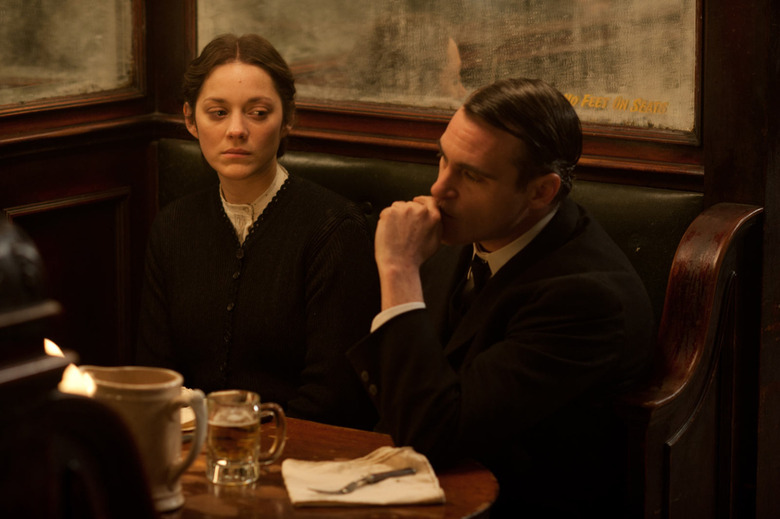 We got our first look at the Cannes 2014 slate this morning, but there are still a few Cannes 2013 films making their way to theaters. One is James Gray's The Immigrant, starring Marion Cotillard, Joaquin Phoenix, and Jeremy Renner.
Cotillard stars as Ewa, a Polish woman who emigrates to New York in 1920 with her sister Magda (Angela Sarafyan). The two are separated upon their arrival at Ellis Island when Magda turns out to be sick.
Desperate, penniless, and alone, Ewa accepts the help of a charming stranger named Bruno (Phoenix) who turns out to be a pimp. He traps her in a life of prostitution, but she sees the potential for salvation when she meets his more pure-hearted cousin Orlando (Renner). Watch the new The Immigrant trailer after the jump.
As the pull-quotes in the trailer indicate, The Immigrant was fairly well received at Cannes last year. The film looks old-fashioned, but not necessarily in a bad way. Reviews have compared The Immigrant to the works of Elia Kazan and Roberto Rossellini.
The Immigrant premieres May 16.
In James Gray's THE IMMIGRANT, Ewa Cybulski (Marion Cotillard) and her sister sail to New York from their native Poland in search of a new start and the American dream. When they reach Ellis Island, doctors discover that Magda (Angela Sarafyan) is ill, and the two women are separated. Ewa is released onto the mean streets of Manhattan while her sister is quarantined. Alone, with nowhere to turn and desperate to reunite with Magda, Ewa quickly falls prey to Bruno (Joaquin Phoenix), a charming but wicked man who takes her in and forces her into prostitution. The arrival of Orlando (Jeremy Renner) – a dashing stage magician who is also Bruno's cousin – restores her self-belief and hopes for a brighter future, becoming her only chance to escape the nightmare in which she finds herself.