'Mrs. Doubtfire 2' In Development For Robin Williams And Chris Columbus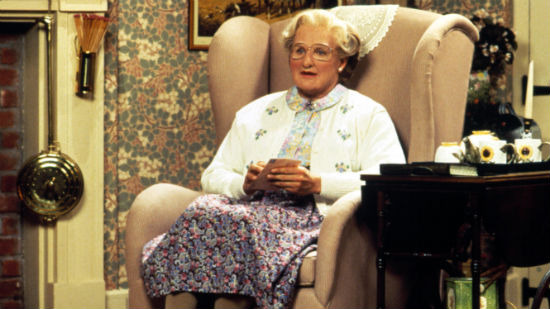 Over 20 years have passed since director Chris Columbus and star Robin Williams teamed up for the hit comedy Mrs. Doubtfire. In that time, it's become a cable staple. A movie some of us have seen dozens of times, whether we wanted to or not. Now, it seems we'll be seeing more of Mrs. Doubtfire in theaters too.
Fox 2000 has just reignited develop of Mrs Doubtfire 2 with Columbus and Williams attached to direct and star. David Berenbaum, the writer of Elf, The Spiderwick Chronicles, The Haunted Mansion and Zoom, is penning the script.
The Hollywood Reporter broke the news about Mrs Doubtfire 2. According to their report, a sequel first went into development in 2001 with actress Bonnie Hunt writing a draft. After that, it went through a few other iterations but then fizzled. Apparently, Berenbaum's take on the material was the first in years to pique the interest of Columbus and Williams and they're now attached, giving the film life again.
The original Mrs. Doubtfire was about a divorced father who dressed up as a Scottish nanny in order to spend more time with his children. Besides Williams in the lead role, it co-starred Sally Field, Pierce Brosnan and grossed over $440 million worldwide. It was a huge smash.
In the end, Williams' character usied the Mrs. Doubtfire persona to become a TV personality. With twenty years having passed since that turn of events, as well as the likely aging of the children and development of technology and the Internet, it's interesting to think about where a sequel could take the characters. Mrs. Doubtfire can't really fool anyone anymore, and the whole double identity gimmick is what made the first one so funny.
Chris Columbus is next making Adam Sandler's animated film Pixels, aimed at 2015 release, and Williams can currently be seen on the CBS show, The Crazy Ones. What do you think about Mrs Doubtfire 2?