Possible AT-AT Spotted On Tatooine Set Of 'Star Wars Episode VII'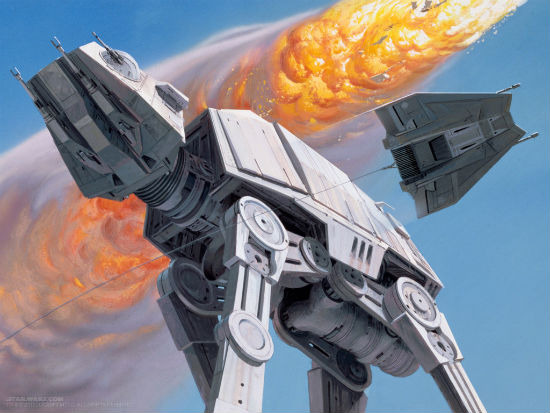 The All Terrain Armored Transport, better known as an AT-AT, was first seen on the snow planet of Hoth. It was then seen guarding Imperial bases on the forest moon of Endor. Now, it's been spotted in the deserts of Tatooine...maybe.
After reports arrived of J.J. Abrams' Star Wars Episode VII shooting in Abu Dhabi, new photos have come online of possible set construction. In those photos are something that looks incredibly similar to the foot of one of the Empire's favorite modes of all terrain transportation. We weigh the evidence and speculate about AT-ATs on Tatooine below.
The copyrighted photos were taken by Mona Al Marzooqi of The National. You can see them all at Getty but here's one.
Since the first rumblings of Star Wars shooting in Abu Dhabi began, UAE news source The National has been investigating. In this great piece, they talk about running into a ton of dead ends before a Star Wars crew member was discovered flirting with a source via Tinder. A few days later, a trip into the desert revealed the above photos. Still, there's no official confirmation it's Star Wars. Just lots of evidence pointing to that notion.
So let's assume the Tinder contact, the previous stories and the above photos all are Star Wars. Is that big round object in fact an AT-AT? Couldn't it be the escape pod from A New Hope? Well Star Wars 7 News and ScreenCrush are among the sites to delve into that question with diagrams and both show that the designs of the above piece and an AT-AT are similar.
Connecting all the assumptions, we can speculate the crew of Star Wars Episode VII is building AT-AT's on the Tatooine set in Abu Dhabi. If that's true (which again, we don't know), what could it reveal about the film? It would suggest maybe Tatooine is where the Empire has gone to hide after the destruction of the Death Star. Or possibly the Rebels took one of the AT-ATs from the battle of Endor and now use it themselves. Either way, it's a strong link back to the original trilogy.
Star Wars Episode VII opens December 18, 2015. What do you think of the AT-AT Tatooine images?