Director Patrick Hughes Drops Details On 'The Raid' Remake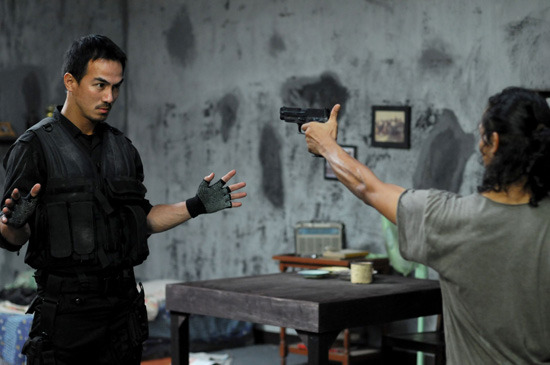 The very second people fell in love with Gareth Evans' 2011 Indonesian martial arts film, The Raid, two things became inevitable: a sequel and a remake. That's just the way the business works. While The Raid 2 is now in theaters (and even better than the original), The Raid remake is still a bit of a mystery.
What we do know is Patrick Hughes, the director of this year's forthcoming Expendables 3, is at the helm and in a new interview he revealed a bunch of new details. Among them is the fact the remake will follow a special DEA task force. Read his quotes below.
Coming Soon exclusively spoke with Hughes about The Raid remake. First up, he talked about the emotional center of the project:
We have a really, really interesting take on that film. One thing, obviously the original just blew my mind and I was fortunate enough to catch up with Gareth Evans in LA at the premiere of 'The Raid 2.' The thing that blew my mind with that film was the aesthetics and the fight sequences but also the simplicity of the premise, and there's so much you can do with that. So our take on it is really interesting and I feel like if anything what I want to do is elevate the emotional aspect of it, and I think those are my favorite action films of all time when you can balance the action and the emotion, and what he did with his first 'Raid' was phenomenal.
He then talked about plot specifics:
Certainly, we're not there to recreate that film beat for beat, with the set up we're following a DEA task team, which was implemented by the Bush administration after September 11th when they realized that terrorism and the drug trade were so closely aligned. So they set up a DEA task team that's six units and they work across borders and sort of act like Navy SEALS. You never read about it, you never hear about it, but they go on these missions. So that's a really interesting take and a really nice premise and also what's interesting on this take on it is the clash of cultures and the clash of martial arts, the fighting styles, which is something that's going to be a lot of fun when we've really started pre-vizzing stuff.
That last sentence is important. It suggests they haven't started doing any pre-visualization, which means things are still very, very early. Hughes likely has to finish The Expendables 3, out August 15, before diving headfirst into the film.
The Raid remake was written by Brad Ingelsby. What do you think about the idea?