'X-Men: Days Of Future Past': Rogue Still In After All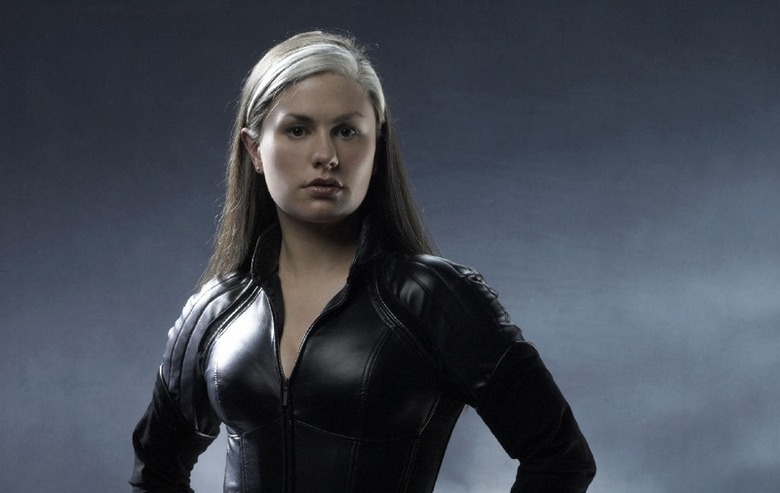 As of last year, it looked like Anna Paquin's Rogue was going to be one of the few mutants not returning for X-Men: Days of Future Past. Though she'd already shot some footage, director Bryan Singer ultimately didn't have room for her one and only scene, and so Rogue ended up on the cutting room floor.
Or so we thought. Now it appears that Rogue was never out of the movie and, in fact, that Singer couldn't have taken her out if he'd wanted to. Find out why after the jump.
But Rogue got an Empire cover nonetheless, and Singer started hinting that she'd reappear in some form. "It does not mean that we won't see her in the film," he teased in January. Eagle-eyed fans also noticed that Paquin's name had not been erased from the trailer credits.
Today, Vulture finally uncovered the reason why Paquin was never dropped. "Rogue is pivotal in a certain scene and would have been impossible to cut out of the movie completely," they write. We won't repeat the details here since they're a bit spoiler-y, but you can read all about it at their site.
That said, Rogue's role was originally supposed to be bigger. The article describes one major sequence that didn't make the final cut, and it sounds like it's the same scene Singer was alluding to back in December. Instead, that event will now take place offscreen, and Paquin will only make a brief cameo.
And she won't be the only mutant doing a quick drop-in. Vulture additionally reports that the film includes several more cameos, though they don't name names. Could we be seeing the return of Alan Cumming's Nightcrawler? James Marsden's Cyclops? Or maybe it's someone new — like Channing Tatum's Gambit, perhaps? Guess away in the comments.
X-Men: Days of Future Past opens May 23.