'Cold In July' Trailer: Michael C. Hall Kills Again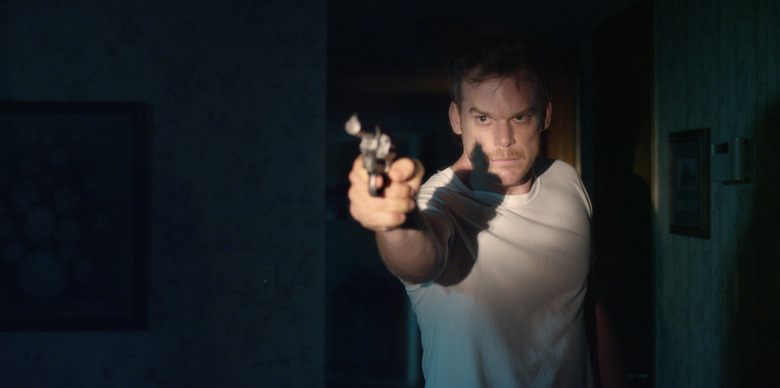 Michael C. Hall's days as a serial killer may be behind him, but his days as a more ordinary, accidental kind of killer are not. In the first Cold in July trailer, the former Dexter star shoots down a burglar in self-defense. This act sets off a whole series of events, starting with the dead guy's father's quest for revenge.Jim Mickle (We Are What We Are) directed and Sam Shepard and Don Johnson also star. Watch the Cold in July trailer after the jump.Cold in July debuted at Sundance this year to solid, not ecstatic, reviews. If you're in the mood for a twisty-turny genre thriller, Cold in July should do just nicely. IFC Films has Cold in July in theaters and on VOD May 23.
How can a split-second decision change your life? While investigating noises in his house one balmy Texas night in 1989, Richard Dane puts a bullet in the brain of a low-life burglar, Freddy Russell. Although he's hailed as a small-town hero, Dane soon finds himself fearing for his family's safety when Freddy's ex-con father, Ben, rolls into town; hell-bent on revenge. However, not all is as it seems. Shortly after Dane kills the home intruder, his life begins to unravel into a dark underworld of corruption and violence. Twists and turns continue to pile up as the film reaches its inevitable destination: a gore-soaked dead end.
Michael C. Hall brings a shell-shocked vulnerability to his portrayal of Dane that contrasts perfectly with the grizzled "badasses" portrayed by Sam Shepard and Don Johnson.  Directed with an excellent eye for the visual poetry of noir, this pulpy, southern-fried mystery is a throwback to an older breed of action films; one where every punch and shotgun blast opens up both physical and spiritual wounds. Cold in July is hard to shake as an east Texas summer.