'Guardians Of The Galaxy' Featurette: Marvel Goes To Space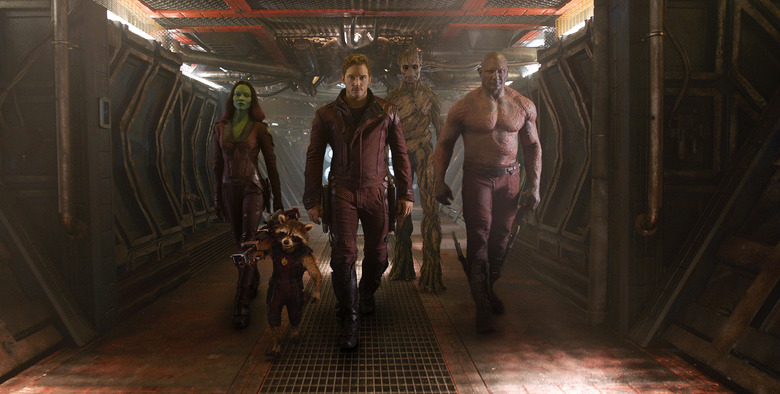 Guardians of the Galaxy doesn't really look like anything that's come before it in the Marvel Cinematic Universe. That's a good thing for those of us eager to see Marvel branch out, but a potential WTF for those who take comfort in Marvel's reliability and consistency.
So a new Guardians of the Galaxy featurette tries to encourage those in the latter camp to join the former. Producer Kevin Feige and stars Chris Pratt, Zoe Saldana, Dave Bautista, Vin Diesel, and Bradley Cooper promise the film will "blow you away with how unique it is," while still reassuring viewers that it's part of the same old MCU. Watch it after the jump.
The new video doesn't have much in the way of new footage, but it does a pretty good job of selling the movie. In contrast to the heroic Avengers, Guardians of the Galaxy centers on what Saldana calls "the thieves, the bounty hunters, and the neglected." This is a team that'd be more comfortable on the Millennium Falcon or the Serenity than a S.H.I.E.L.D. helicarrier. (Even before the events of Captain America: The Winter Soldier, that is.)
Granted, Guardians of the Galaxy is still a Marvel movie so there's a limit to how radically different it can really be. But the material we've seen so far does feel fresh, with a more out-there tone and some very colorful personalities. Guardians of the Galaxy arrives August 1.
An action-packed, epic space adventure, Marvel's "Guardians of the Galaxy" expands the Marvel Cinematic Universe into the cosmos, where brash adventurer Peter Quill finds himself the object of an unrelenting bounty hunt after stealing a mysterious orb coveted by Ronan, a powerful villain with ambitions that threaten the entire universe. To evade the ever-persistent Ronan, Quill is forced into an uneasy truce with a quartet of disparate misfits—Rocket, a gun-toting raccoon, Groot, a tree-like humanoid, the deadly and enigmatic Gamora and the revenge-driven Drax the Destroyer. But when Quill discovers the true power of the orb and the menace it poses to the cosmos, he must do his best to rally his ragtag rivals for a last, desperate stand—with the galaxy's fate in the balance.