Watch: 20-Minute 'X-Men' Interview With Hugh Jackman, James McAvoy, And Michael Fassbender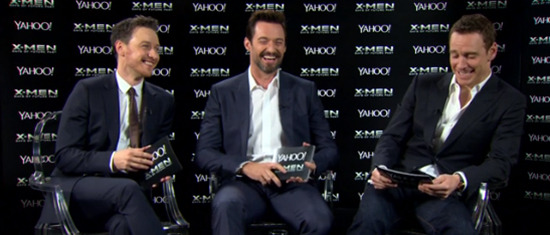 You've seen the most recent (and supposedly final) trailer for X-Men: Days of Future Past. To complement it, stars Hugh Jackman, James McAvoy, and Michael Fassbender took part in a 20-minute question and answer session in which they fielded inquiries about the new movie. But this isn't the place where Fox's well-oiled marketing machine suddenly breaks down and all manner of secrets are revealed. No, this is just the place where you get a sense of how much fun it might be to hang out with these three actors for a little while. And that is pretty good, given their personalities and easy chemistry together.
X-Men: Days of Future Past opens on on May 23. It also features Patrick Stewart, Ian McKellen, Jennifer Lawrence, Daniel Cudmore, Nicholas Hoult, Peter Dinklage, Halle Berry, Adan Canto, Anna Paquin, Evan Peters and Ellen Page. Yahoo has this Q&A.
The ultimate X-Men ensemble fights a war for the survival of the species across two time periods in X-Men: Days of Future Past. The beloved characters from the original X-Men film trilogy join forces with their younger selves from X-Men: First Class, in an epic battle that must change the past to save our future.