'Grand Budapest Hotel' Box Office Is Wes Anderson's Biggest Ever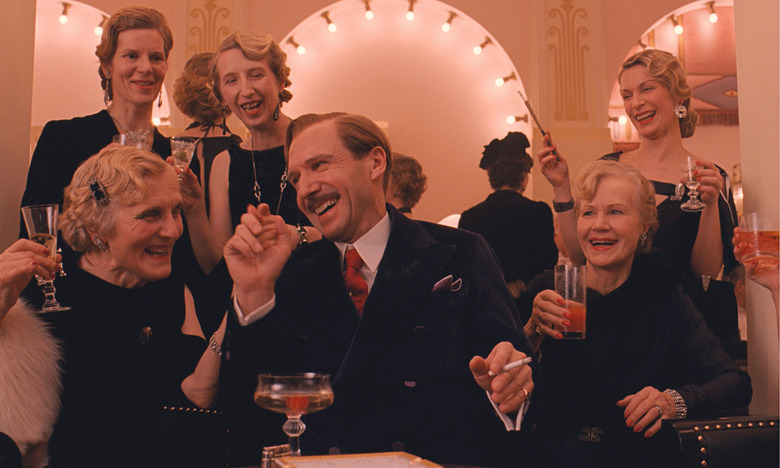 The characters of The Grand Budapest Hotel fall on some hard times, but the movie itself is rolling in the dough. It's just become director Wes Anderson's highest-grossing release ever, and the only one to cross the $100 million mark.
It's great news, but not particularly surprising news considering the run The Grand Budapest Hotel has had so far. During its opening weekend in March, it beat out Paul Thomas Anderson's The Master to become the highest-grossing limited live-action debut of all time. Hit the jump for more on how Grand Budapest hit those numbers.
Interestingly, though, The Grand Budapest Hotel falls behind when we look only at domestic figures. In terms of U.S. gross, The Grand Budapest Hotel is only in third place, behind Moonrise Kingdom ($45.5 million domestic) and The Royal Tenenbaums ($71.4 million). Only The Darjeeling Limited has had a higher percentage of its global total come from non-U.S. markets.
In that way, Anderson's movie isn't so different from the countless big-budget blockbusters that flop at home only to make their money back and then some overseas.
The Grand Budapest Hotel opened in limited release on March 7, making $800,000 in just four theaters. The $200,000 per-theater average is the best ever for a live-action film (not counting "event" openings like Red State). It sits comfortably ahead of previous record-holder The Master, which overtook Anderson's own Moonrise Kingdom to get there.
The film has only been in wide release since March 28, and is currently playing at 1,467 locations. The only Anderson film to get a wider release was Fantastic Mr. Fox, which was in 2,304 theaters.
[Sources: Variety, Box Office Mojo]