'X-Men: Days Of Future Past' Trailer: Wolverine Assembles A Team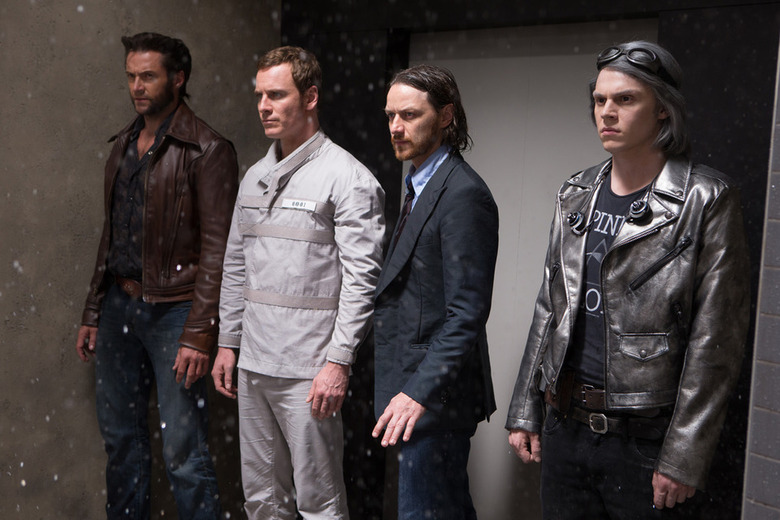 After some intense promos and clips (and a couple of truly WTF Carl's Jr. commercials), Fox has released one final X-Men: Days of Future Past trailer.
As usual, the video has mutant heroes battling mean humans, terrifying Sentinels, and their own inner angst across two different timelines. What's different is that this particular trailer plays up Wolverine's role in the whole thing. Though he doesn't tend to be much of a team player, desperate times call for desperate measures, so this one has him running around the '70s trying to get the gang together.
Watch the new X-Men Days of Future Past trailer, which includes tons of new footage, after the jump.
Fox posted the X-Men: Days of Future Past trailer on YouTube.
The time-jumping nature of the X-Men: Days of Future Past plotline allows the First Class characters to face their own inner trilogy counterparts. So we've got two Magnetos (Michael Fassbender and Ian McKellen) and two Professor Xes (James McAvoy and Patrick Stewart) — although there's still only one Wolverine (Hugh Jackman), because that guy never ages.
Meanwhile, it also opens the door to a whole host of new characters. Fan favorites from the comic who'll be making their first appearances here include Bishop (Omar Sy), Quicksilver (Evan Peters), Blink (Fan Bingbing), Warpath (Booboo Stewart), and Sunspot (Adan Canto). Classic villain Bolivar Trask (Peter Dinklage) gets caught up in the action, too.
That's a lot of characters to keep track of, and as excited as we are to see old friends and make new ones, we can't help but worry that the film will feel overstuffed. On the bright side, though, the huge cast doesn't seem to be slowing down the action or the drama. The trailer hint at plenty of big moments and lots of heart.
X-Men: Days of Future Past arrives in theaters May 23. Because all the actors named above still aren't enough, the film also stars Jennifer Lawrence, Nicholas Hoult, Ellen Page, Halle Berry, Shawn Ashmore, Daniel Cudmore, Lucas Till, and Josh Helman. Also returning from the original trilogy is director Bryan Singer.
The ultimate X-Men ensemble fights a war for the survival of the species across two time periods in X-MEN: DAYS OF FUTURE PAST. The beloved characters from the original "X-Men" film trilogy join forces with their younger selves from "X-Men: First Class," in an epic battle that must change the past — to save our future.