Rumor: Fox Taking 'Die Hard 6' Pitches, Wants Samuel L. Jackson To Return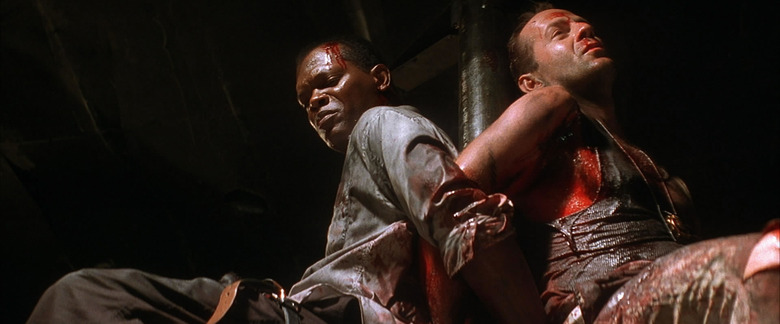 There's little to go on here, and the news is far from confirmed, but one persistent seeker of big studio news says that Fox is meeting with writers for pitches on a new Die Hard script. No real surprise there. While the last film sucked, it made some money, and Bruce Willis has said he would play the role of John McClane again. The big news, assuming this report is correct, is that for Die Hard 6 Fox wants to reunite Willis with his Die Hard With a Vengeance co-star, Samuel L. Jackson.
Let's not mince words: the third Die Hard movie was the last indisputably good entry in the series, even though its third act falters significantly after a kick-ass opening and set-up of the core characters and plot machinery. Samuel L. Jackson turned out to be the perfect foil for Willis/McClane, and the film (based on a script that was refitted into a Die Hard story) had a great energy. It also acts as a great early '90s NYC time capsule.
So this statement is appealing:
TWITTER SCOOP: FOX is meeting writers for takes on next DIE HARD. It has to involve John McClane AND Samuel Jackson's Zeus Carver character!

— Umberto Gonzalez (@elmayimbe) April 14, 2014
How much faith can we put in that? Difficult to gauge at this point. A decent story and script could be instrumental in bringing Jackson back into the fold, assuming he's even willing. Even then, there's no guarantee that the reunion would pan out well. The third film had a good setup, a lot of character material for Willis and Jackson, and the benefit of the original Die Hard director, John McTiernan. Then again, now that McTiernan's nasty legal troubles are cleared up, is there any chance he could return to make his first feature in over a decade? Not likely, but while we're wishing for the moon, might as well hope that Fox goes all the way.