Marvel's 'Agent Carter': Coming This Winter To ABC?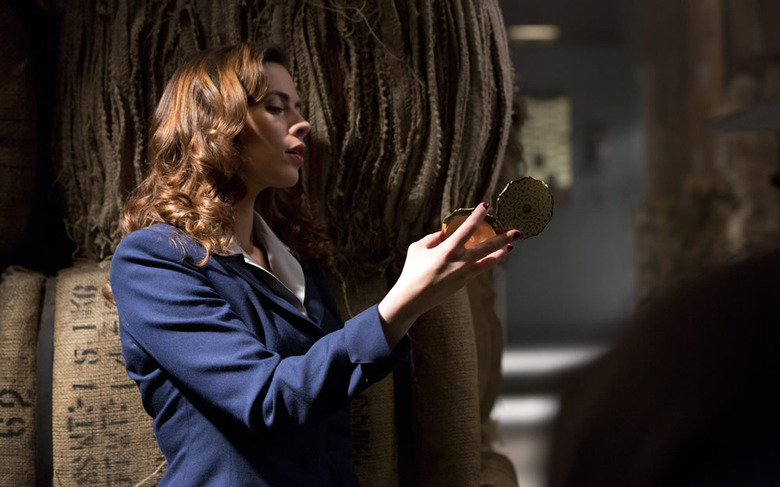 Agents of S.H.I.E.L.D. wasn't quite the runaway success that ABC had hoped for, but the network isn't giving up on Marvel just yet. To the contrary, it's thinking of doubling down.
A new report indicates that Agent Carter may bypass the pilot stage and go straight to series, debuting sometime during the (as yet unannounced) second season of Agents of S.H.I.E.L.D. More details after the jump.
Agent Carter originated as a Marvel One-Shot released as a special feature on the Iron Man 3 Blu-ray. The short took place after the events of Captain America: The First Avenger, and followed Hayley Atwell's Sharon Carter as she battled sexism and tracked down the Zodiac.
The Agent Carter TV series has been in the works since last year. The script was completed months ago, and the option on Atwell's contract was extended. It still doesn't have an official greenlight, but today's report seems like an encouraging sign for the show.
While it's still unusual for a show to skip the pilot stage completely, it's not unheard of. If ABC is indeed jumping ahead to a series order, it suggests they have a lot of faith in Agent Carter. It surely doesn't hurt that they've already seen a prototype of sorts, in the form of the One-Shot mentioned above.
Marvel Studios has had unparalleled success on the big screen, but they've only recently started pushing into live-action television. Aside from (possibly) Season 2 of Agents of S.H.I.E.L.D. and the new Agent Carter series, Marvel is also planning Netflix shows centered on Daredevil, Jessica Jones, Iron Fist, and Luke Cage.