'Gods Pocket' Trailer: Philip Seymour Hoffman And A Dangerous Truth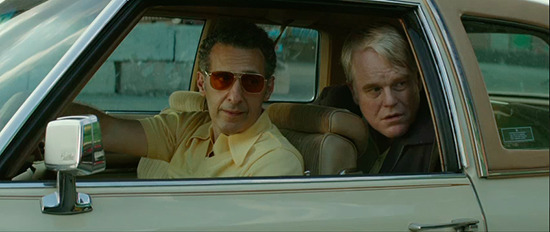 With the premiere of the final Mad Men season taking place last night, what better time to release the first trailer for a film directed by one of the show's key players? Mad Men's John Slattery co-wrote and directed God's Pocket, which is one of the last films to feature Philip Seymour Hoffman. The story takes place in a blue-collar neighborhood, and has Hoffman as a guy who starts looking into the contraction site death of his stepson. With a cast that also includes Christina Hendricks, Richard Jenkins, John Turturro, and Eddie Marsan, there's plenty of reason to check out the God's Pocket trailer below.
God's Pocket premiered at Sundance, and while it had its share of adherents, many voices said the film wasn't up to snuff. It "strands its talented cast with less-than-deserving material" (The Playlist), "only partly succeeds... playing like a movie by the Coen Brothers directed with one arm tied behind their backs" (THR), " feels dead on arrival, a strained pileup" (Variety) and "roots around in familiar muck" (The Guardian). But some praised the film's black comedy, and there's always the chance that a tighter edit post-Sundance has helped the film out.
God's Pocket opens May 9. Apple has the trailer.
Philip Seymour Hoffman and Christina Hendricks star in this deliciously twisted comedy directed by Mad Men's John Slattery. When Mickey's (Hoffman) crazy stepson Leon is killed in a construction "accident," nobody in the working class neighborhood of God's Pocket is sorry he's gone. Mickey tries to bury the bad news with the body, but when the boy's mother demands the truth, Mickey finds himself stuck in a life-and-death struggle between a body he can't bury, a wife he can't please and a debt he can't pay. Also stars John Turturro and Richard Jenkins.