Stephen Colbert Will Replace David Letterman As 'The Late Show' Host In 2015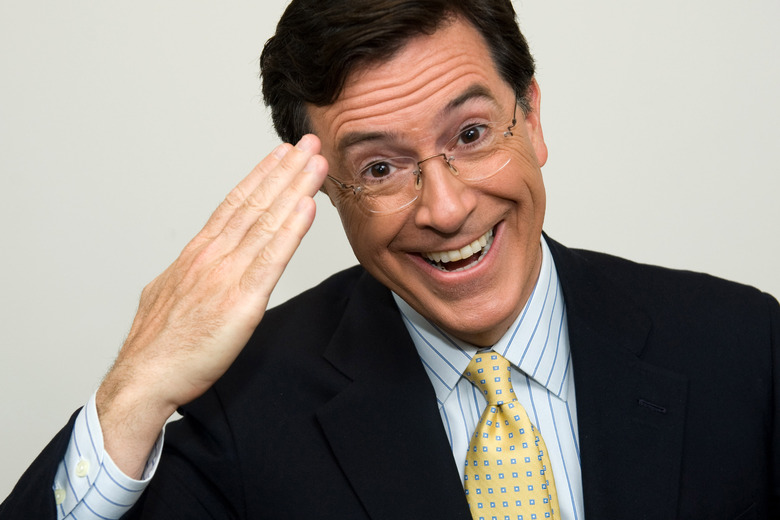 So #CancelColbert worked, if not in quite the way anyone envisioned. Stephen Colbert will become the next host of The Late Show on CBS, taking over after David Letterman departs in 2015. This raises many questions, most notably: will Colbert cast aside the conservative parody character he created to host The Colbert Report on Comedy Central? (Update: The answer to that seems to be yes, according to the Wall St. Journal, which reports that Colbert "will retire the character he plays on his Comedy Central show.")
Colbert did say, "I'm thrilled and grateful that CBS chose me. Now, if you'll excuse me, I have to go grind a gap in my front teeth."
The CBS press release is below.
Colbert was tipped as the first choice to replace Letterman when the long-running host announced his retirement last week. Few really thought that was likely to happen, however. The Colbert Report seems rock-solid. But while Colbert thrives in the role he created to host that show, he may not want to play that part forever. This is a prime opportunity to go back to being a less-cartoonish version of Stephen Colbert, and probably make truckloads of money doing so.
For now, the most important part of this press release is the third paragraph, which says that all the important details of the show will be figured out later.
The CBS Television Network today announced that Stephen Colbert, the host, writer and executive producer of the Emmy and Peabody Award-winning "The Colbert Report," will succeed David Letterman as the host of THE LATE SHOW, effective when Mr. Letterman retires from the broadcast. The five-year agreement between CBS and Colbert was announced by Leslie Moonves, President and CEO, CBS Corporation, and Nina Tassler, Chairman of CBS Entertainment.Letterman, the legendary, critically acclaimed host of the CBS late night series for 21 years, announced his retirement on his April 3 broadcast. Colbert's premiere date as host of THE LATE SHOW will be announced after Mr. Lettermen determines a timetable for his final broadcasts in 2015.Specific creative elements, as well as the producers and the location for the Colbert-hosted LATE SHOW, will be determined and announced at a later date."Stephen Colbert is one of the most inventive and respected forces on television," said Moonves. "David Letterman's legacy and accomplishments are an incredible source of pride for all of us here, and today's announcement speaks to our commitment of upholding what he established for CBS in late night.""Stephen is a multi-talented and respected host, writer, producer, satirist and comedian who blazes a trail of thought-provoking conversation, humor and innovation with everything he touches," said Tassler. "He is a presence on every stage, with interests and notable accomplishments across a wide spectrum of entertainment, politics, publishing and music. We welcome Stephen to CBS with great pride and excitement, and look forward to introducing him to our network television viewers in late night.""Simply being a guest on David Letterman's show has been a highlight of my career," said Colbert. "I never dreamed that I would follow in his footsteps, though everyone in late night follows Dave's lead."Adding, "I'm thrilled and grateful that CBS chose me. Now, if you'll excuse me, I have to go grind a gap in my front teeth."
Now,  if you're John Oliver, what does this mean? Oliver's new HBO show debuts this coming weekend, but now there's a prime programming spot opening up in the Comedy Central nightly schedule. I wonder if Oliver would really rather have that spot than the weekly stint on HBO. Or will Comedy Central see how Chris Hardwick is doing with @Midnight, and give him a new show to follow The Daily Show? I'd be psyched to see the channel give Amy Schumer a talk show of her own, but she might be too busy in movie roles by this time next year.