'Deliver Us From Evil' International Trailer: Primary Evil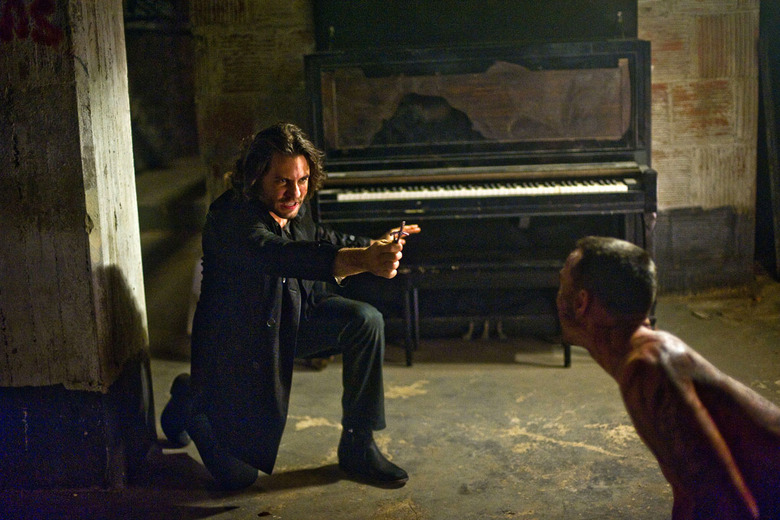 In the hottest, stickiest days of summer, Scott Derrickson (Sinister) will be trying his best to give you the chills. Sony's big release this Fourth of July weekend is Derrickson's Deliver Us From Evil, and a new international trailer has been served up to show you what it's all about.
Inspired by a true story (because of course it is), Deliver Us From Evil centers around NYPD cop Ralph Sarchie (Eric Bana), who teams with an unconventional priest (Édgar Ramírez) to investigate a series of disturbing crimes. Sarchie is initially skeptical about the whole supernatural angle, but eventually comes around after he sees too many things that can't be explained.
Watch the Deliver Us From Evil international trailer after the jump.
Derrickson's Sinister was a solid horror flick, and Deliver Us From Evil looks like it could be one too. The premise of a cop and a priest fighting evil sounds fun (and also kind of like it should be the basis for a Grimm or Sleepy Hollow spinoff), and there are some good creepy moments in the trailer. That toy owl gives me the heebie-jeebies.
Deliver Us From Evil opens July 2. Olivia Munn and Joel McHale also star, even though it isn't a comedy.
In DELIVER US FROM EVIL, New York police officer Ralph Sarchie (Eric Bana), struggling with his own personal issues, begins investigating a series of disturbing and inexplicable crimes. He joins forces with an unconventional priest (Edgar Ramírez), schooled in the rituals of exorcism, to combat the frightening and demonic possessions that are terrorizing their city. Inspired by the book, which details Sarchie's bone-chilling real-life cases.