'22 Jump Street' Red-Band Trailer: Spring Break, Motherf*ckers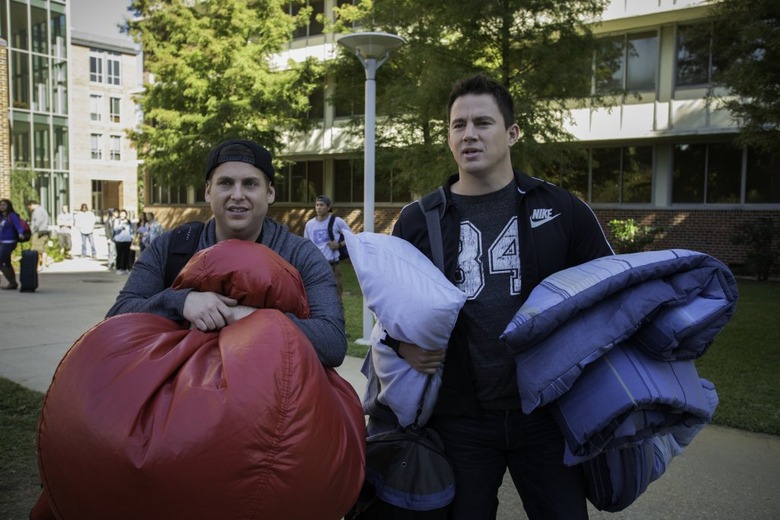 Most directors are lucky to have one smash hit in a given year. Phil Lord and Chris Miller are about to have two. Fresh off of the success of The Lego Movie, Lord and Miller are releasing 22 Jump Street, once again starring Channing Tatum and Jonah Hill as a mismatched pair of undercover cops.
21 Jump Street was one of the funniest studio comedies in recent memory, and if the new 22 Jump Street red-band trailer is anything to go by, these guys haven't lost their touch. This time around, Schmidt and Jenko pass as college students and head down to spring break — all in the name of catching baddies, of course. Watch the trailer after the jump.
Normally, a sequel to a comedic reboot of a half-forgotten '80s show wouldn't seem like anything to get excited about. But as we've noted many times before, Lord and Miller seem to excel at turning bad-on-paper ideas into cinematic gold. (Though even they didn't want to touch Ghostbusters 3, apparently.) 22 Jump Street might not be as surprising as 21 Jump Street was, but it looks every bit as funny.
22 Jump Street opens June 13.
After making their way through high school (twice), big changes are in store for officers Schmidt (Jonah Hill) and Jenko (Channing Tatum) when they go deep undercover at a local college. But when Jenko meets a kindred spirit on the football team, and Schmidt infiltrates the bohemian art major scene, they begin to question their partnership. Now they don't have to just crack the case – they have to figure out if they can have a mature relationship. If these two overgrown adolescents can grow from freshmen into real men, college might be the best thing that ever happened to them.