Marvel's 'Agents Of S.H.I.E.L.D' Ties Into 'Winter Soldier' And 'Age Of Ultron;' Maria Hill Returning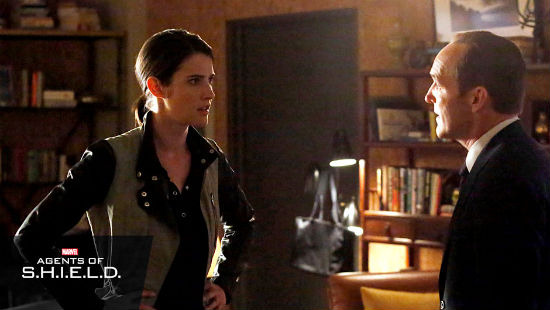 The April 8 episode of Marvel's Agents of S.H.I.E.L.D. reached two milestones. First, it tied into the landmark events of the #1 movie in the world, Captain America: The Winter Soldier, and hinted towards Avengers: Age of Ultron. Second, it was one of the lowest-rated episodes in the series history. This piece won't focus on that second fact but it's important to remember because, over the next few weeks, things are sure to heat up on the show. Besides continuing the story kicked off in this episode (which we'll reveal below) we know Samuel L. Jackson's Nick Fury will make an apparenace and now, Cobie Smulders' Maria Hill is also coming back.
Read all about the Agents of SHIELD Winter Soldier tie in and returning cast below.
Spoilers for both Captain America: The Winter Soldier and Agents of S.H.I.E.L.D. follow.
First up, here's the very basic idea of what happened on the April 8 episode of Agents of S.H.I.E.L.D., "Turn, Turn, Turn." The big twist was series regular and, basically, second lead character Agent Grant Ward (Brett Dalton) was revealed to be a HYDRA operative, like many of his S.H.I.E.L.D. colleagues were revealed to be in The Winter Soldier. His boss Garrett (Bill Paxton) is also a HYDRA operative as well as the mysterious Clairvoyant. It was also revealed the man they'd been fighting, Deathlok, was created with HYDRA technology (not unlike The Winter Soldier). The episode set up a final few episodes which will see Agent Coulson and his team track down and battle HYDRA cells.
In addition to the Agents of S.H.I.E.L.D. Winter Soldier tie in, Movies.com noticed it's briefly mentioned HYDRA has taken over a S.H.I.E.L.D base in Africa. That may, or may not, be a nod to the post-credits scene in The Winter Soldier which reveals Baron Von Strucker at a secret Africa base with the captured Quicksilver and Scarlett Witch. The base has Loki's staff, a likely Infinity Gem, which is a relic S.H.I.E.L.D almost certainly acquired after the Battle of New York. (Remember Item 47?) It's pretty likely Von Strucker and his team are the HYDRA cell who took over this S.H.I.E.L.D. based, to specifically gain access to the staff.
Very, very interesting possibilities here. And they only get more interesting with the news Maria Hill (Smulders) will appear on the April 29 episode. She was in the pilot episode of the show, but has not been back since. The episode, obviously, takes place after Captain America: The Winter Soldier – which ended with her visiting Stark Industries – so I'll be curious to see how she ties back into the former government operation. TV Line broke the news and said "Hill will play a large role in the May sweeps episode, and that those who have clamored for a Coulson/Hill team-up will get it, punctuated by lots of action." Two weeks later, Samuel L. Jackson will appear on the season finale.
All of this is a recipe for what almost sounds like a made-for-TV prequel to Avengers: Age of Ultron. Can Agents of S.H.I.E.L.D. live up to that? What did you gain from the latest episode? And will it come back for season two?