Lots Of New 'Dawn Of The Planet Of The Apes' Photos Online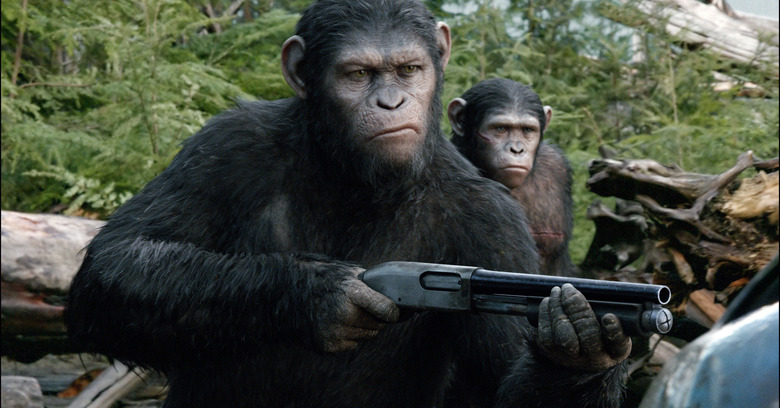 Lots of blockbuster sequels are headed our way in the next few months and the one we probably know least about is Dawn of the Planet of the Apes. Matt Reeves' sequel to the surprise 2011 hit Rise of the Planet of the Apes takes places several years later as humanity is attempting to put itself back together after a deadly virus wiped out much of the world. Meanwhile, the leader of the apes, Caesar, has also been building up his superhuman race of animals. What will happen as the two sides clash? Get a glimpse in ten new Dawn of the Planet of the Apes photos that've now come online.
The images below come from USA Today.
Lots of interesting possibilities in those photos. The humans look very intimidated by the apes. With images like Caesar with a shot gun and riding horses, it's probably with good reason. Gary Oldman's character, however, looks pretty comfortable in this crazy new world. Hopefully we'll see a new trailer in the next few weeks (Apes will be at Wondercon next weekend) for some more context. It's pretty obvious, though, the apes have evolved heavily since the last film where it was just their "Rise." Now it's the "Dawn" and the question becomes: how long until the title is just four words?
Dawn of the Planet of the Apes opens on July 11. It features Andy Serkis, Jason Clarke, Keri Russell, Gary Oldman, Toby Kebbell, Kodi Smit-McPhee, Kirk Acevedo, Enrique Murciano, and Judy Greer.
A growing nation of genetically evolved apes led by Caesar is threatened by a band of human survivors of the devastating virus unleashed a decade earlier. They reach a fragile peace, but it proves short-lived, as both sides are brought to the brink of a war that will determine who will emerge as Earth's dominant species.