Tina Fey And Amy Poehler Team Up For 'The Nest'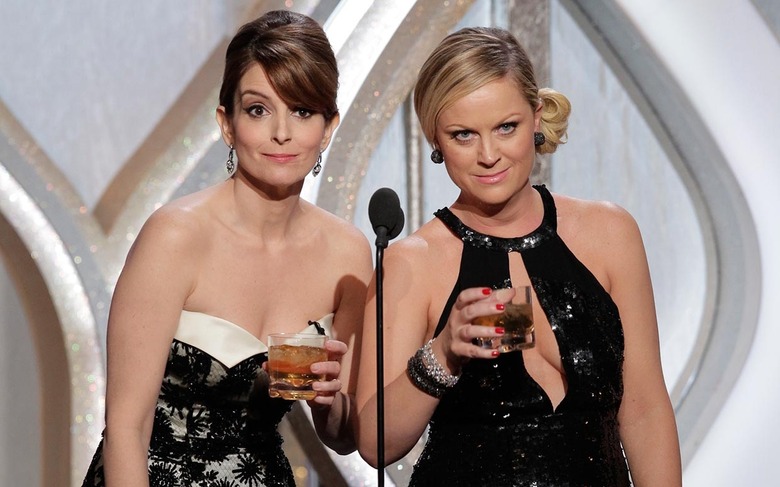 Tina Fey and Amy Poehler are famously close friends, and now they're going to be sisters as well. On the big screen, anyway. The former Weekend Update co-anchors and Golden Globes co-hosts are set to star together in The Nest, a Universal comedy being directed by Pitch Perfect's Jason Moore. Get plot details and more after the jump.
The story centers around two 30something sisters who return to their childhood home, only to discover that it's been put up for sale. They decide to spend one last wild weekend there, bickering and bonding with one another. When the project was first announced last year with Fey in one of the lead roles, we figured Poehler would be the perfect pick to play her sister; apparently, Universal agrees.
Fey and Poehler have been friends for decades, and spent several years starring together on Saturday Night Live. More recently, they hosted the last two Golden Globes ceremonies to general acclaim, and are set to host again next year. 
However, they haven't crossed paths all that often on the big screen. In 2004, they co-starred in Mean Girls (which Fey wrote) but did not share any scenes. They did appear together in 2008's Baby Mama, a decent comedy that did reasonable business at the box office. 
Poehler currently stars in Parks & Recreation and recently reunited with another frequent co-star, Paul Rudd, for David Wain's They Came Together. She has a voice role in the upcoming Pixar movie Inside Out.
Fey will executive produce The Nest through her Little Stranger banner, while Poehler will executive produce. The Nest also re-teams Moore with Universal, where he directed his hit debut feature Pitch Perfect.
[Source: Showbiz 411]