First 'Teenage Mutant Ninja Turtles' Movie Posters Revealed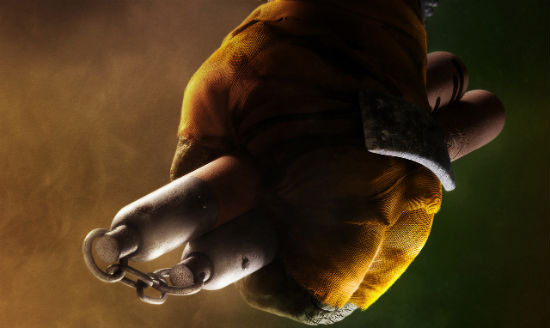 We've seen the Teenage Mutant Ninja Turtles trailer, and now the first posters have been release. These are teaser posters at their best, focusing on the colors and weapons that distinguish Leonardo, Donatello, Michaelangelo and Raphael. The film, directed by Jonathan Liebesman, opens August 8. Check out the first Teenage Mutant Ninja Turtles posters below.
Thanks to Michael Bay for the uploads. Click on each to see in high res and a lot more detail.
Teenage Mutant Ninja Turtles Teaser Movie Posters
With all the talk of the look of the Turtles, I don't think it's a coincidence these first teaser posters don't show the faces. We know they're turtles, we know they're ninjas, and we know exactly who each one is. Raphael has the sai, Leonardo has the katana, Michaelangelo and the nunchucks and Donatello has the bow staff. Those weapons are those characters and these Teenage Mutant Ninja Turtles posters hammer that point home.
The reboot of Teenage Mutant Ninja Turtles is directed by Jonathan Liebesman. Featuring the voices of Johnny Knoxville and Tony Shalhoub, it stars Megan Fox, Pete Ploszek, Noel Fisher, Jeremy Howard, Alan Ritchson, Danny Woodburn, William Fichtner, Will Arnett, Whoopi Goldberg and opens August 8. Here's the official synopsis:
The city needs heroes. Darkness has settled over New York City as Shredder and his evil Foot Clan have an iron grip on everything from the police to the politicians. The future is grim until four unlikely outcast brothers rise from the sewers and discover their destiny as Teenage Mutant Ninja Turtles. The Turtles must work with fearless reporter April and her wise-cracking cameraman Vern Fenwick to save the city and unravel Shredder's diabolical plan.