Free 'Amazing Spider-Man 2' Mondo Posters At IMAX Screenings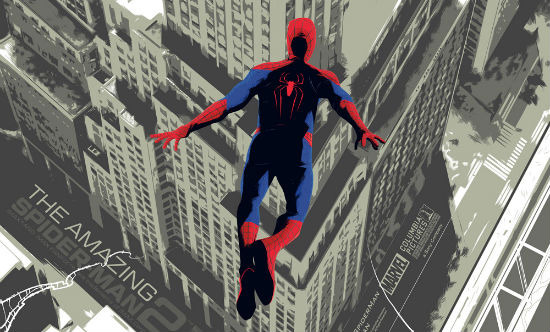 Briefly: Sony Pictures has teamed up with IMAX, Marvel and Mondo for the latest FanFix print. Attendees of the 7 p.m. May 1 IMAX screenings of Marc Webb's The Amazing Spider-Man 2 will get a copy of a brand new poster by artist Matt Taylor. Check out the full Spider-Man Mondo poster below.
Thanks to Fandango for the image.
Matt Taylor - Amazing Spider-Man 2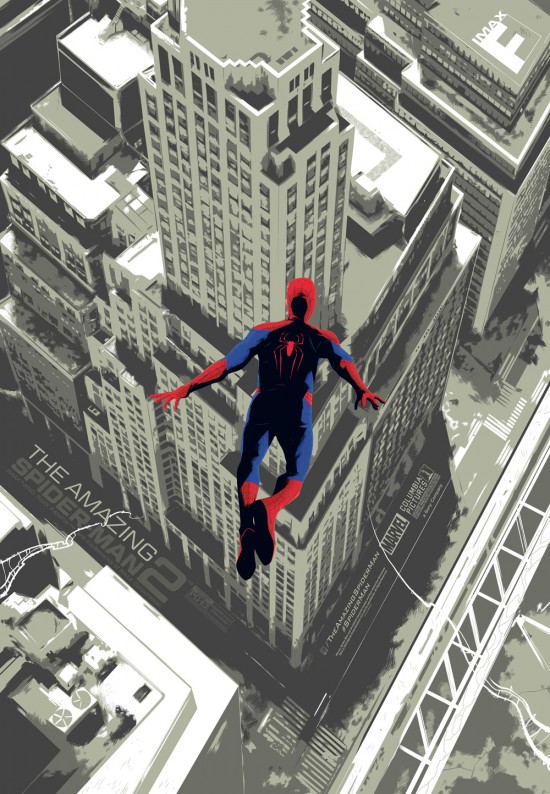 Unlike most Mondo posters, this is not a screenprint. It a simple, limited edition lithograph. But it's free and you can only get it at those specific screenings so it definitely has some cool factor. Visit IMAX.com for the list of participating theaters. What do you think of Taylor's Spider-Man Mondo poster?
Full press release:
Exclusively for IMAX fans as part of the IMAX FANFIX™ series, those attending first showings on May 1st of THE AMAZING SPIDER-MAN 2 in IMAX® 3D will receive a limited edition IMAX FANFIX print featuring original artwork by artist Matt Taylor. The artwork is a collaboration between Sony, Marvel, IMAX and Mondo.
We've always known that Spider-Man's most important battle has been within himself: the struggle between the ordinary obligations of Peter Parker and the extraordinary responsibilities of Spider-Man. But in The Amazing Spider-Man 2, Peter Parker finds that a greater conflict lies ahead.
It's great to be Spider-Man (Andrew Garfield). For Peter Parker, there's no feeling quite like swinging between skyscrapers, embracing being the hero, and spending time with Gwen (Emma Stone). But being Spider-Man comes at a price: only Spider-Man can protect his fellow New Yorkers from the formidable villains that threaten the city. With the emergence of Electro (Jamie Foxx), Peter must confront a foe far more powerful than he. And as his old friend, Harry Osborn (Dane DeHaan), returns, Peter comes to realize that all of his enemies have one thing in common: OsCorp.
Check IMAX.com for a list of participating theaters; while supplies last.