Peter Mayhew Returns As Chewbacca In 'Star Wars Episode VII'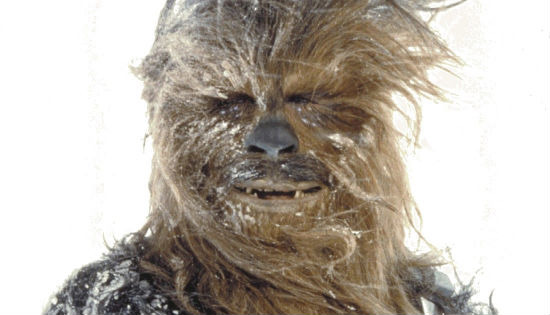 The second cast member for Star Wars Episode VII has been revealed, and it's another returning actor/character pair. R2-D2 was first and now The Hollywood Reporter says Peter Mayhew will reprise his role as the iconic wookiee Chewbacca.
J.J. Abrams' film, out December 18, 2015, is now filming. Full details on plot and cast are expected in the coming weeks. Read more Peter Mayhew Star Wars 7 news below.The Hollywood Reporter broke the news of Mayhew's casting, which isn't exactly a surprise. Just last week, the actor dropped out of a scheduled convention appearance because of his "filming schedule." Most assumed this meant he'd be back for Star Wars Episode VII. Plus, it's all but assured the majority of the principal cast would be returning, it's just a matter of when Disney and Lucasfilm are ready to announce. This report bolsters that assumption.
In recent years, the actor has had some serious health issues, which are the topic of a Kickstarter documentary called Standing in the Stars: The Peter Mayhew Story. He does seem to be getting better, however. Plus, he's talked in the past about a desire to return to the franchise, which he did briefly in Star Wars Episode III: Revenge of the Sith. Here's a quote from 2012.
Wookiees, and particularly Chewbacca, are base characters when telling the story of Star Wars. It's important that Chewie remains a part of the story. Everybody loves Chewbacca. I'm sure of it.
This news is yet more confirmation J.J. Abrams was indeed rewriting Michael Arndt's script to focus more on the original trilogy characters. However, unlike Harrison Ford, Mark Hamill and Carrie Fisher, Mayhew has the benefit of a full body suit to cover the 30 plus years of aging since Return of the Jedi.
Here's a great video of Mayhew on the set of George Lucas' original film.
And an old interview with him talking about his experiences:
What do you think of this Peter Mayhew Star Wars 7 news? Do you think Anthony Daniels, the actor inside C-3P0 will be next?