HBO's 'Silicon Valley' Premiere Is Streaming Online For Free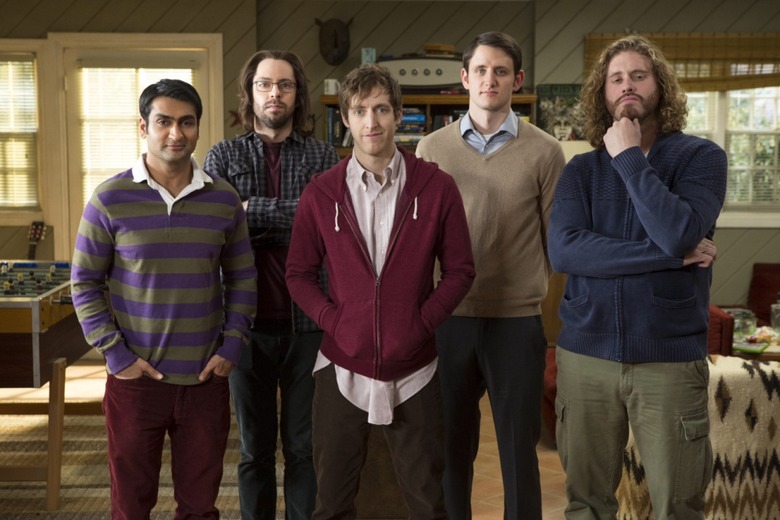 HBO subscriptions are expensive, and not all of us have Facebook or Google money. But as long as you've got an Internet connection, you can check out the full first episode of HBO's Silicon Valley for free.
Created by Mike Judge, the half-hour comedy centers around a group of Bay Area techies who want to hit the big time — and then, somewhat unexpectedly, actually do so. Thomas Middleditch, T.J. Miller, Zach Woods, Kumail Nanjiani, Martin Starr, and Josh Brener star. HBO has now put the entire premiere episode online, and you can watch it after the jump.
Though Silicon Valley bears some obvious resemblances to Judge's other works, including Office Space and Idiocracy, it's also been called a nerdy version of Entourage. Only, as one reviewer puts it, "[w]ithout the fame. Or the money. Good looks. Fancy houses. Expensive cars. Gorgeous women. Social skills. And, well, you get the idea."
That may sound like an insult if you weren't a big fans of the later seasons of Entourage, but let's not forget that there was a time when that show was attracting praise for its incisive take on Hollywood and celeb culture.
At the center of the series is Richard Hendricks (Middleditch), a shy, anxious programmer who spends his days laboring for a Google-esque corporation called Hooli and his evenings working on his own invention in an "incubator" run by the rich nerd Ehrlich (Miller). Richard's actual program isn't anything impressive, but hidden within it is a game-changing algorithm that catches the attention of two powerful players in the industry.
In the first episode, Richard is faced with an impossible choice. On one side is Hooli CEO Gavin Belson (Matt Ross), who offers to buy Richard's invention for $10 million; on the other is Peter Gregory (Christopher Evan Welch), a billionaire VC who offers a smaller sum but also the chance for Richard to own his own company.
Silicon Valley's first season runs eight episodes and airs after Game of Thrones on Sundays.