'Point Break' Remake: Ray Winstone Is The New Gary Busey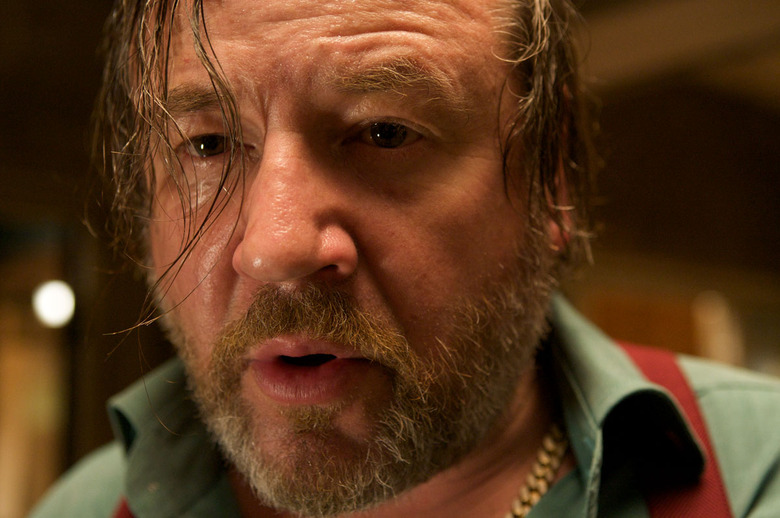 Compared to the world-ending waves in Noah, we can't imagine 50-year storms seem all that impressive. Nevertheless, Ray Winstone has boarded the Point Break remake in the role of Johnny Utah's older partner, played in Kathryn Bigelow's 1991 original by Gary Busey.
Winstone joins Luke Bracey and Gerard Butler in the actioner, which is being directed by Ericson Core. Read more about the reboot, including producer Broderick Johnson's comments on what has and hasn't changed in the new version, after the jump.
But Broderick promises that, for the most part, the new film won't just be more of the same. "The script only shares in common with the original the characters and the nature of the character dynamic between Utah and Bodhi and their relationship," he told Collider. "Everything else about the movie is different. The narrative of the movie is different."
For one thing, it'll be set not in the California surf scene but in the wider world of extreme sports. "While we do have surfing in the film, it is only a subset of the extreme sports that we deal with, including free-climbing, motocross, wing-suiting and so forth," Johnson explained.
To help capture that universe, Johnson brought in real athletes to do real stunts, and plans to use "virtually" no green screen. "This is a movie with a lot of stunts and no stunt people in it because the stunts are way too dangerous for people who are stunt people," he said.
While principal photography won't start until June, second-unit photography is already underway. The shoot is expected to hit about ten countries in total, including Italy (where some snowboarding footage has already been shot) and Switzerland. Point Break will be released in 3D and IMAX, although when it'll be released remains unclear.
There's also no word on whether Winstone's version of the character will be as manic as Busey's was in the 1991 original. It'd be tough for most people to match that level of large-than-life insanity, but Winstone is coming off of a pretty vicious villain turn in Noah. Among his other upcoming movies are Pierre Morel's The Gunman, starring Sean Penn. 
[Additional source: Variety]