Three New 'Godzilla' Spots Offer More Monster Glimpses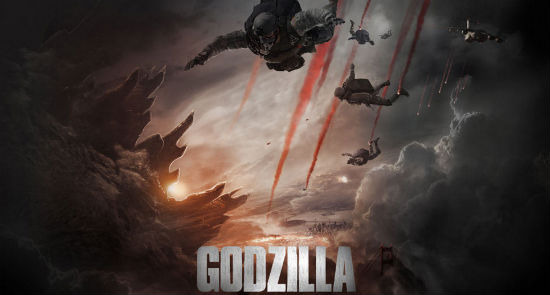 Godzilla (the monster, and possibly the film) is gigantic, but at this point Legendary and Warner Bros. are all about revealing new glimpses of the film in the smallest ways. A pair of trailers, teaser and full-length, have been very shy about showing off the monster and how he stomps around the world, preferring instead to illustrate the aftereffects of said stomping. A growing collection of TV spots is following suit, showing new footage in bite-size chunks. Today we have three new Godzilla spots,
A long "extended look" is promised for Saturday April 5, at 4pm EST / 1pm PST, so we'll have that for you soon. 
Godzilla opens on May 16. TV Spots via Legendary and Flicks And Bits.
An epic rebirth to Toho's iconic Godzilla, this spectacular adventure, from Warner Bros. Pictures and Legendary Pictures, pits the world's most famous monster against malevolent creatures who, bolstered by humanity's scientific arrogance, threaten our very existence.
Gareth Edwards directs "Godzilla," which stars Aaron Taylor-Johnson ("Kick-Ass"), Oscar® nominee Ken Watanabe ("The Last Samurai," "Inception"), Elizabeth Olsen ("Martha Marcy May Marlene"), Oscar® winner Juliette Binoche ("The English Patient," "Cosmopolis"), and Sally Hawkins ("Blue Jasmine"), with Oscar® nominee David Strathairn ("Good Night, and Good Luck.," "The Bourne Legacy") and Bryan Cranston ("Argo," TV's "Breaking Bad").