Tom Hardy Joins A Ridley Scott-Produced Drama And A Musical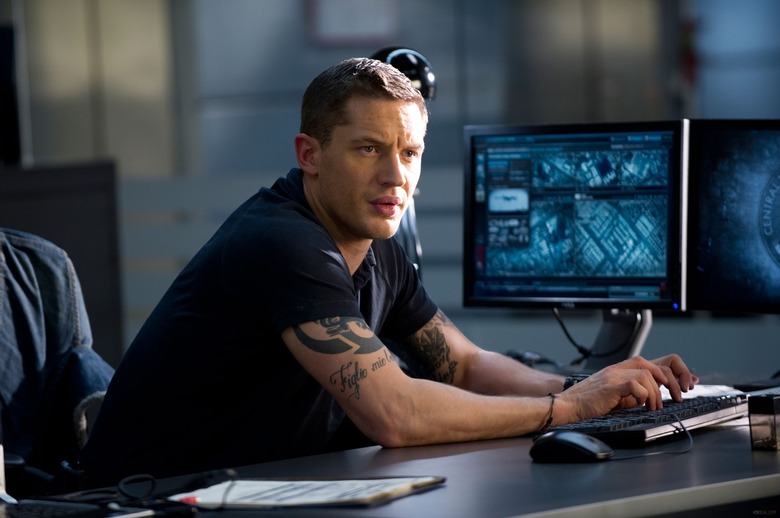 Over a decade after he made his feature film debut in Black Hawk Down, Tom Hardy is preparing to work with Ridley Scott again. This time, they'll be joining forces for a BBC One drama called Taboo, created by Hardy's Locke director Steven Knight.
Meanwhile, Hardy has also booked another, very different kind of role. He'll be showing off his pipes in London Road, a musical about the 2006 Ipswich serial murders. Hit the jump for more details on both of Hardy's new gigs.
He refuses to sell the family company to the East India Company, instead building his own trade and shipping empire. He subsequently gets caught up in the War of 1812, between the U.S. and Britain. "We're creating a flagship British drama for this generation, a hybrid of orthodox and unconventional story telling, packed with darkness and spirited characters," Hardy explained in a statement.
Hardy and Knight recently earned raves on the festival circuit for Locke. Since making that film, they've proven eager to keep their professional relationship going. Earlier this year, Hardy booked a role in Season 2 of Knight's BBC Two series Peaky Blinders. Scott, who also produced Hardy's upcoming Child 44, will produce Taboo.
As for London Road, it's based on the award-winning play of the same title. The Rufus Norris-directed musical examines a community's reactions after a serial killer attacks five women in the area. The Daily Mail reports that Hardy has a small role as Mark, a taxi driver who sings about "a rather morbid passion he enjoyed as a teenager." Olivia Colman also stars.
Hardy doesn't have many musicals on his big-screen resume, but that's about to change. In addition to London Road, he's also set to play Elton John in the upcoming biopic Rocketman. However, his more immediate upcoming roles are of the "gritty thriller" variety. His next appearances will be in Child 44, The Drop, and Mad Max: Fury Road.