Mondo Reveals 'Captain America: The Winter Soldier' Poster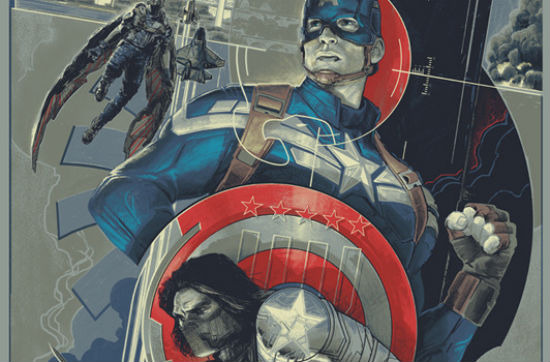 Mondo and Marvel go together like Iron Man and metal. Since the earliest films in the Marvel Cinematic Universe, the Austin-based collectable company has been creating beautiful limited-edition posters for the studio's films. Iron Man 2, Thor, The Avengers, Iron Man 3, Hulk and Captain America: The First Avenger are just a few of the posters they've made so far. Next month, artist Mike Mitchell is even doing a full show of Marvel portraits. With all that, and Captain America: The Winter Soldier hitting theaters tonight, it's no surprise they're releasing a poster for the highly-anticipated sequel.
Below check out the Mondo Captain America The Winter Soldier Poster by Rich Kelly.
Captain America: The Winter Soldier by Rich Kelly will be on sale Friday April 4 at a random time. Follow @MondoNews for the exact announcement
Captain America: The Winter Soldier by Rich Kelly
The blueish print is the regular (edition 435, $45) and the reddish is the variant (225, $70). Both are 24 x 36.
Captain America: The Winter Soldier opens at midnight Thursday in the US. Once you see the movie this weekend, check back early next week for a ton of spoiler filled interviews about the film.
After the cataclysmic events in New York with The Avengers, Marvel's "Captain America: The Winter Soldier" finds Steve Rogers, a.k.a. Captain America, living quietly in Washington, D.C. and trying to adjust to the modern world. But when a S.H.I.E.L.D. colleague comes under attack, Steve becomes embroiled in a web of intrigue that threatens to put the world at risk. Joining forces with the Black Widow, Captain America struggles to expose the ever-widening conspiracy while fighting off professional assassins sent to silence him at every turn. When the full scope of the villainous plot is revealed, Captain America and the Black Widow enlist the help of a new ally, the Falcon. However, they soon find themselves up against an unexpected and formidable enemy—the Winter Soldier.